Amid the Doklam Standoff, China's Vice Premier Will Visit Nepal
Nepal's Deputy Prime Minister reveals that China's Vice Premier Wang Yang will arrive in Nepal on August 14.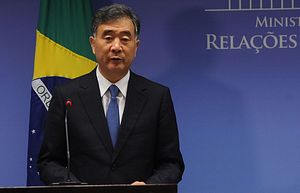 More evidence has shown that China is trying hard to solve the Doklam standoff with India via some indirect channels, although China refuses to let the domestic Chinese audience know about its efforts.
On August 8, citing Krishna Bahadur Mahara, Nepal's deputy prime minister and minister for foreign affairs, Nepal's English-language newspaper The Kathmandu Post reported that China's Vice Premier Wang Yang will visit Nepal on August 14.
Although Mahara denied that Wang Yang's upcoming visit has anything to do with the standoff between China and India, the sensitive timing together with Wang's high-level official title indicate otherwise.
The other equally important information Mahara revealed during his press briefing was that Nepal vows to remain neutral in the dispute between China and India. Mahara said that Nepal will not be "influenced" either by India or China and will not "get dragged" into their border dispute. "Our policy on boundary dispute between India and China is clear," he emphasized. As The Kathmandu Post  noted, this is also the first time that Nepal made its position clear since the standoff between India and China broke out nearly two months ago.
It is obvious that Nepal's geographic position puts it in an awkward situation in this dispute: it borders China in the north and India in the south, east, and west. Although Nepal does not border Bhutan, the disputed Sikkim area is located between Nepal and Bhutan. Thus, if any real conflict happened in the disputed area, Nepal wouldn't be able to avoid the impact.
Mahara made it clear he had met the ambassadors from India and China recently and "urged both sides to resolve the dispute in a peaceful manner. We don't want to see a war between them."
In addition, after Wang's visit, Nepal's Prime Minister Sher Bahadur Deuba is going to have a state visit to India on August 23. There is a good prospect for Deuba to be a messenger and even a mediator between China and India.
As The Diplomat reported yesterday, China's Defense Ministry invited a delegation of Indian media over to the ministry for a direct dialogue on August 7, and sent some positive signals to break the ice. However, the meeting was not made public by the ministry on its website nor was it reported by Chinese local media until now. Similarly, Wang's upcoming visit to Nepal hasn't been made public domestically in China as well. It's interesting to see that China is trying to hide its moves from its own nationals.