China and North Korea Have a Mutual Defense Treaty, But When Would It Apply?
China's assurances to North Korea would not apply if it began a war, but it would if were attacked first.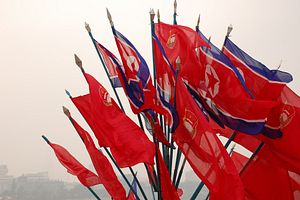 An editorial in China's Global Times gained some traction last week for a suggestion that should North Korea launch "missiles that threaten U.S. soil first and the U.S. retaliates, China will stay neutral." The editorial was picked up by the Washington Post, which noted that it was evidence that China "won't come to North Korea's aid" under certain circumstances.
While the Global Times isn't among the authoritative state-run newspapers in China, in this case, it was on to something. In 1961, Kim Il-sung, the founder of North Korea, and Zhou Enlai, the first premier of the People's Republic, concluded a bilateral treaty that remains in force to this day. Article 2 of that treaty included a mutual defense provision; China would help North Korea should it face attack and North Korea would do the same. The article reads:
The Contracting Parties undertake jointly to adopt all measures to prevent aggression against either of the Contracting Parties by any state. In the event of one of the Contracting Parties being subjected to the armed attack by any state or several states jointly and thus being involved in a state of war, the other Contracting Party shall immediately render military and other assistance by all means at its disposal.
The treaty was forged as memory of Chinese assistance during the Korean War remained fresh and North Korea remained relatively poor and weak. Today, more than fifty years later, North Korea has demonstrated an intercontinental-range ballistic missile capability that it hopes will be sufficient to deter its arch enemy: the United States.
In the years leading up to its demonstration of this capability, Pyongyang has also fleshed out a range of lower-order ballistic missiles, designed to threaten Seoul and Tokyo, both U.S. allies, at the theater level. Meanwhile, relations between China and North Korea have declined to the point where it may no longer be correct to say Beijing is Pyongyang's closest diplomatic partner — merely its most important.
The 1961 treaty between North Korea and China, in the meantime, has seen an important reinterpretation on the Chinese side that is seldom discussed. The Global Times' interpretation of China's policy likely rests on this interpretation, which is thought to have occurred in late-2010.
According to former South Korean President Lee Myung-bak's memoir, Dai Bingguo, then China's diplomatic point person on North Korea, traveled to Pyongyang to convey this reinterpretation of the treaty to Kim Jong-il. Dai's warning was that "If North Korea would first attack South Korea and, as a result, there were full-scale arms clashes, China wouldn't aid North Korea." Presumably, the assurance extended to war with the United States.
For China, this reinterpretation made sense — especially after the Six-Party Talks collapsed and North Korea appeared to be on a march toward ever-more-capable ballistic missiles and, eventually, nuclear weapons with which to arm them. Denying North Korea allied assurance in the case that it would start a conflict would in theory deter Pyongyang from taking the initiative in a crisis, drawing China in.
Similarly, by allowing South Korea, Japan, and the United States the assurance that China would still intervene should North Korea face external aggression in a first strike, Beijing could presumably help deter a strike by the allies against North Korea. In effect, this Chinese policy was thought to reduce the possibility of either side starting a disastrous war on the Korean peninsula.
One of the unintended consequences of this position, in my view, was not only the broader disintegration of the close ties between China and North Korea under Kim Jong-un, but also the latter's decision to pursue a robust and diverse nuclear force.
Kim's ICBM has received the bulk of the attention this year, but he has also introduced a robust new suite of short-, medium-, and intermediate-range ballistic missiles that could allow North Korea to commence and terminate a war on its own terms. In the end, the Chinese decision in the early 2010s to reinterpret Article 2of the 1961 treaty may be part of why we're facing the kind of North Korean threat we are today.