China's War on Dissent
Detained activists have two choices: vanish or confess.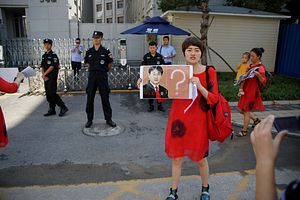 GENEVA — At a  press briefing on August 24, hosted by the ISHR (International Service for Human Rights), one of the leading international NGOs in Geneva, a group of Chinese human rights defenders expressed their deep concern about the future of their detained and vanished colleagues.
Phil Lynch, director of ISHR, said in his opening remarks that ISHR is deeply concerned by the widespread crackdown against human rights defenders in China. "Over the last several years, we worked hard to support Chinese human rights activists to elevate their voices using UN human rights mechanisms, especially the Human Rights Council, to pressure China for change and call for accountability.
Lynch discussed the case of Gui Minhai, disappeared since 2015. "He has missed his daughter's graduation and her acceptance to a PhD program," said Lynch. "She keeps on fighting for her father's release."
Lynch then gave the floor to three Chinese human rights activists. Yaxue Cao, the founder and editor of ChinaChange.org, said that detentions in China are increasingly arbitrary. "Recent charges against defenders and human rights lawyers are increasingly absurd; and the use of nonlegal methods of detention are increasingly frequent. The international community and UN mechanisms should, therefore, be increasingly alarmed and respond accordingly," said Yaxue Cao.
Cao also raised the question of security of human rights activists who cooperate with UN human rights mechanisms. "Just to come to Geneva has become very dangerous. Human rights activists are being subject to reprisals for their cooperation with international organizations in Geneva. It is unacceptable and we demand from the UN and international community more active efforts to ensure our security," said Yaxue Cao.
Sarah Brooks, Asia program manager at the ISHR, said that in the last two years more than 300 activists have been harassed, threatened, detained and disappeared. "This crackdown marked by arbitrary arrests, incommunicado detentions, torture and ill-treatment and this is part of the policy of the Chinese government to close the space for civil society. The death of Nobel Prize winner Liu Xiaobo and enforced disappearance of his wife Liu Xia expose with painful clarity the costs of detention for defenders in China, and reminds us that this cost is also borne by friends and family. For all those at risk for their work to protect and promote human rights, we urge the Human Rights Council to press China for justice and accountability" said Brooks.
During the press-conference Zhang Qing, wife of the Guo Feixiong joined the discussion remotely to speak about her husband's health conditions. Guo Feixiong has spent over a decade in detention for his human rights activities. She described the deplorable conditions her husband faced: "They locked my husband more than two years in a very small and confined space, where he hasn't been able to move around. He hasn't been allowed outside for exercise, or to see sunlight, and this has done huge damage to his health. It was a deliberate harm and a slow form of torture."
Zhang told the member governments of the Human Rights Council that they could no longer ignore China's willful mistreatment of activists in detention. "I express my gratitude to international groups and UN experts who raised the case of my husband at the UN. After international pressure he was transferred to another jail, where he recovered and his health is better now. His sister was allowed recently to visit him in the jail," she said.
Yibee Huang, chief executive officer of Covenant Watch, spoke about reprisals against activists in Taiwan. She discussed the case of Li Ming-che, a manager at Taipei's Wenshan Community College and a longtime democracy activist, who was detained in March 2017 and has been held incommunicado since. "We are deeply concerned about his health conditions. And the Chinese government shut down all communication means and we cannot receive any information about him" she said.
The activists also spoke about the case of the Chinese lawyer Jiang Tianyong, who disappeared on November 21, 2016. His whereabouts remained unknown for several months, and only at the end of 2016 did Chinese authorities admit that Jiang was held "under residential surveillance at designated location." Kit Chan, president of the Chinese Human Rights Lawyers Concern Group told The Diplomat about his recently concluded trial.
"After detention incommunicado of 274 days, Jiang's trial took place on 22 August at the Changsha Intermediate People's Court. The trial was manipulated and the public were deliberately barred from attending it, and the areas around the Court were roadblocked with police officers. We demand the court give Jiang a non-guilty verdict and immediately release him. We also call on the international community not to be deceived by the illustrations and rhetoric of the rule according to law, but follow closely and speak up on the case of Jiang Tianyong and that of lawyer Wang Quanzhang, " said Chan.
Incommunicado detentions have become routine and families struggle to hear any news about vanished activists. Wang, who Chan reference, was detained by the Chinese authorities in August 2015. His wife, Li Wenzu, told the BBC that she hasn't heard from him and does not know if he is alive or not. "I had no information at all. He has simply disappeared from the face of the Earth."
Law enforcement authorities in China are notorious for their use of torture against human rights defenders and political dissidents. It seems that incommunicado detainees have only two choices: make confessions that are then broadcast by state-run TV or refuse and remain vanished.
Li told the BBC that Wang's continued incarceration might be because he is holding out. "I think it might be because my husband hasn't compromised at all," Li said. "That's why his case remains unsolved."
When they do confess, lawyers admit guilt and say that they were brainwashed by Western media and activists. For example, Chinese lawyer Xie Yang made a confession on state television in May. He had been charged with "inciting subversion of state power and disrupting court order."
"My actions go against my role as a lawyer," he said in the video released by the Changsha Intermediate People's Court, "we should give up using contact with foreign media and independent media to hype sensitive news events, attack judicial institutions and smear the image of the nation's party organs while handling cases."
Liu Xiaobo, a symbol of Chinese pro-democratic movements, was awarded the Nobel Peace prize in 2010 "for his long and nonviolent struggle for human rights in China." He could not attend the ceremony in Stockholm and was represented by an empty chair because he was still in custody. Liu died of liver cancer in July, under guard at the hospital to which he had been released the month before — his cancer beyond treatment.
The international community has been worried about the destiny of his wife Liu Xia, whose location is still unknown. She has lived under constant police watch, and international organizations have been calling on Beijing to allow her to leave China if she wishes.
The main concerns of those gathered in Genea last week are that there are more and more activists being arbitrary detained and vanished, and cooperation with UN mechanisms and international organization have become more dangerous for Chinese defenders.
Cholpon Orozobekova is a researcher at the Bulan Institute for Peace Innovations.