Climate Change and Food Security in Nepal: Why the Developed World Must Step Up
The developed world must show moral leadership in assisting Nepal.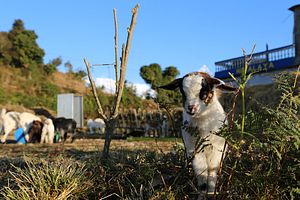 For the past few years, farmers in Nepal have noticed several extreme weather events. Longer droughts, frequent flooding of rivers during the summer due to glacial melts in the Himalayas, heavy rainfall over short periods of time, and extended summers have become common in Nepal. Farmers now are befuddled about what they should do during the Asadh 15 festival, a festival during late June to celebrate the planting of paddies, as no one these days plants paddies during that time. This is because the monsoon season, which historically starts during the months of June and July, has now shifted to August and September. This fact has also been demonstrated according to research of the World Food Program (WFP). These extreme weather events, influenced by climate change, have affected crop productivity and yields in Nepal, escalating food insecurity in the country.
There is a substantial body of evidence that points to climate change as jeopardizing food security in Nepal. A recent study by the WFP concludes that food security in Nepal is highly sensitive to climate risks. The study highlights that recent climate-related events in Nepal like droughts, floods, and glacial melt impact crop production, people's access to markets, and income. As per data revealed by the Central Bureau of Statistics (CBS) of Nepal, "over the last decade, around 30,845 hectares of land owned by almost five percent of households became uncultivable due to the climate-related hazards." Studies have predicted that if climate change continues to jeopardize agricultural production in Nepal, the livelihoods of two-thirds of the people will be at risk.
Climate change not only affects agricultural production and availability of food in Nepal, but also has a negative impact on access to food for the poor. Climate-related events have contributed to decreases in agricultural production in Nepal, which in turn has caused high inflation in the food market. The WFP's report stated that the percentage of households spending a "very high" proportion of their income on food has increased in Nepal, which sequentially has exacerbated poverty and hunger in the country.
Nepal is not the only developing country whose food security is in jeopardy due to climate change, but one of many. According to a research paper produced by the Proceeding of the National Academy of Sciences, climate fluctuations that promote severe and frequent droughts and floods will dramatically reduce crop and livestock productivity in semi-arid and sub-humid areas. Interestingly, the paper argues that most of the semi-arid and sub-humid lands are in sub-Saharan Africa and parts of South Asia, suggesting that countries already struggling to feed their people will be at the epicenter of the crisis. It is very likely, then, that hunger and the food crisis will continue to trigger tensions and conflicts in some of the poorest regions of the world.
The imminent severe food crisis in poor developing countries due to climate change cannot be ignored; a tangible policy response is needed to counter that threat. However, economically, many poor developing countries like Nepal are not in any position to implement the many expensive policies that are needed to protect their at-risk populations. The international community therefore has a moral obligation to step in and help developing countries like Nepal mitigate the threat of food insecurity posed by climate change.
To help poor developing countries deal with the impacts of climate change, the United Nations Framework Convention on Climate Change in 2010 introduced the Green Climate Fund (GCF). Through the GCF, wealthy developed countries pledged $100 billion to developing countries by 2020 for mitigating climate-related risks and hazards. Considering the gravity of ongoing climate-related hazards that are being faced by poor developing countries, the GCF is not sufficient enough to practically support developing countries. Nevertheless, it was an important first step in the right direction. Worryingly, the Trump administration's decision to defund the GCF has smashed all momentum and may roll back the global consensus for helping developing countries build resilience against climate-related hazards.
There is no dissension to the fact that the industrialized developed countries are responsible for the excessive production of the greenhouse gases. Therefore, they should take moral leadership in helping developing countries like Nepal deal with the impacts of climate change, including ensuring food security. Developed countries' assistance in making food more accessible to people in poor developing countries is also in the long-term national interest of developed countries. If climate change continues to jeopardize the food security of poor developing countries, and if famine results in widespread deaths, there will be many externalities due to those unfortunate events. No doubt, some of those externalities will travel to the shores of wealthy nations.
Sumesh Shiwakoty is a commentator on Nepali affairs. His previous work has appeared in the Himalayan Times and the Kathmandu Post.