Floods Devastate Nepal's Southern Plains
Recent flooding has affected over 16 million people in India, Bangladesh, and Nepal.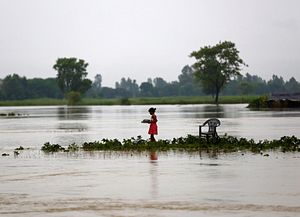 Last Sunday, a photograph appeared on the front page of Nepal's leading daily, Kantipur, depicting the body of a five-year-old boy floating in Nepal's Koshi River. The child, later identified as Kamalu Sada of Tilathi, Saptari District, had been let adrift after he died and his parents could find no dry land to bury him. Although natural disasters are not a new phenomenon in Nepal — severe earthquakes rocked the nation in 2015 and some degree of flooding and landslides occur each monsoon season — the photograph shocked the nation.
Currently, floods are affecting over 16 million people in India, Bangladesh, and Nepal.  In Nepal, the floods began late last week, and although the waters have begun to recede, communities are devastated. According to the Nepali government, the floods have killed at least 120 people, destroyed 7,000 homes, and displaced over 18,000 families. Although the accuracy of much of the data right now is questionable, the Nepali government is in the process of a rapid assessment of damage, and is likely to publicize the results soon.
Whereas damage from the 2015 earthquakes was concentrated in Nepal's hills and mountains, the current floods have primarily affected Nepal's southern plains which abut India, although earthquake-affected areas have also suffered landslides related to the heavy downpours.
The flooding has affected the poorest the most, such as those in Bairawa village in Saptari District, whose residents are mostly Dalits – so called "untouchables."
Many people in Bairawa have taken refuge on whatever high ground is available — schools, temples, the sides of roads, and embankments. They sleep outside with their livestock, fearing nighttime attacks by snakes and other wild animals.
Sajani Devi Sardar, 26, is pregnant and has been sleeping under a tarpaulin with her family and goats since their home was flooded. Upon receiving rice distributed by local government personnel earlier this week, she revealed that she had not eaten in three days.
"The river took away our food and our firewood, what could I do?" she said.
The poorest are most vulnerable to flooding because they often live on floodplains, explains Ajaya Dixit, a hydraulic engineer and water expert who heads the Kathmandu-based NGO ISET-Nepal. "They're not there because of their own choice. They're there because historical, social and other factors forced them to live there."
Many of Nepal's poorest citizens depend on agriculture for their livelihoods, although agriculture only represents about a third of the country's GDP. According to an estimate by the Ministry of Agricultural Development, the floods have caused over Rs. 8 billion in damage to crops, or about $77 million, primarily to rice paddy and vegetable crops.
Agricultural damage is felt most acutely by smallholders and tenant farmers. In Kanchanrup Municipality in Saptari District, Biso Paswan, 65, says the rains destroyed his crop on the five kattha of land he was renting (about one-sixth of a hectare). He says he owes the landlord about 600 kilograms of rice, and does not know how he will provide it.
The floods have also done significant damage to government infrastructure. Roads and bridges have been wiped out in a number of places, and traffic on the main highway connecting Kathmandu to India has been disrupted. The Ministry of Irrigation has estimated damage worth Rs. 2.42 billion to irrigation systems around the country.
Furthermore, the floods have killed livestock, farmed fish, and other animals. At least one rhino drowned, and others were washed away from Nepal's Chitwan National Park into Bihar in India.
Natural and Human Causes
Though Nepal experiences severe flooding in pockets during most monsoon seasons, this year is unusual in that the floods have spanned nearly the entire breadth of the country from east to west at the same time. When clouds burst open, 424 millimeters of rain (almost 17 inches) fell in just eight hours in some parts of the country. Although scientists still debate the overall effects of climate change on the South Asian monsoon, an emerging pattern is that rainfall events are spaced further apart and are becoming more intense, according to Rajendra Sharma, a Nepali government hydrologist interviewed by The Record. Sharma points out that just days before the current floods, areas in the eastern Terai experienced drought-like weather.
The most recent rainfall event comparable to those earlier this week in Nepal occurred in July 1993, when a cloudburst led to 540 mm (21 inches) of rain in 24 hours. Devastating floods also hit the Terai in 2008, although these were primarily caused by a breach of embankments on the Koshi, Nepal's largest river.
The current floods have been exacerbated by urban development and environmental degradation. Ajaya Dixit, the hydrological engineer, says that rapid urbanization has changed local hydrology in some places, causing flooding in areas that had not seen it before. In addition, the booming construction industry has driven up demand for sand and gravel, which are mined from upstream river beds during the dry season. Such mining often occurs illegally; contractors conspire with local officials in charge. When the monsoon comes, the mining causes loose sediment to travel downstream, where it settles in the plains, causing rivers to meander and flood more frequently. Haphazard road construction in Nepal's hills, which also causes erosion, has exacerbated flooding too, says Dixit.
Poorly designed infrastructure has also contributed to the flooding. Elevated roads in the Terai, which often run perpendicular to the flow of water, lack sufficient drainage, as the journalist Cheryl Colopy discusses in her book Dirty, Sacred Rivers. In addition, man-made embankments on major rivers can stop them from overflowing in the short-term, but also can cause flooding on the outside by preventing tributaries from draining into the main river, as a recent Al Jazeera report shows.
The mainstream Nepali press has criticized India for contributing to floods by not releasing water from dams and barrages on Nepal's major rivers like the Koshi, Gandaki, Karnali, and Mahakali. But Dixit is skeptical of this argument, saying that the Indian dams are only responsible for flooding in Nepal's southernmost villages, not upstream. (Meanwhile, the Indian media often blames Nepali dams for floods in Bihar and Uttar Pradesh, a claim Dixit also rejects, noting that the floodgates of storage dams in Nepal, with one exception, are in fact controlled by India.)
Moreover, most of the current flooding is caused by minor rivers fed by the Mahabharat and Churia hills, located to the south of the main Himalayan range. This has caught planners off-guard, since most flood-control engineering has focused on snow-fed rivers that originate in the northern Himalayas. "Churia rivers have never been on the radar screen of our psyche… nobody pays attention to them," says Dixit.
The Response
After facing criticism in its handling of relief and reconstruction for the 2015 earthquakes, the Nepali government is struggling to respond to the current floods.
In the immediate aftermath of the floods, many people depended on family, friends, and neighbors for rescue, food, and shelter. In Biratnagar, a major city in the eastern Terai that suffered flooding, youth groups, religious groups, and volunteer organizations played an early role in relief, according to Chand Iraki, the president of Nepal Leo Clubs.
The government's response, when it came, was directed centrally by the Ministry of Home Affairs. It has deployed 27,000 army, police, and civil servants to assist in rescue and relief operations. As of Thursday, the government had released Rs. 1 billion (roughly $9.7 million) from the Prime Minister's Relief fund for relief efforts. At the district-level, relief is led by District Disaster Relief Committees (DDRCs) which are headed by Chief District Officers, who are bureaucrats appointed by the central government. The DDRCs have been involved in a variety of activities, including the distribution of food, health camps, and the disposal of dead animal carcasses, according to Saptari's Chief District Officer, Bhagirath Pandey. The government has been assisted by the Nepal Red Cross; the UN Humanitarian Country Team has also been activated.
Although Nepal is undergoing a transition to a federal system and decentralization enshrined in the country's 2015 constitution, the government response to the floods has been fairly centralized. For example, while municipalities — the most local level of government — are playing an important role in relief work, they take direction from the DDRCs. Part of the reason for the municipality representatives' secondary role in relief is their newness — local representatives were elected just in May and June this year, after a 15-year gap with no locally elected representatives. Furthermore, local representatives have not yet been elected in Province 2, where elections have been delayed until September due to ongoing political disagreements over the new federal structure.
But the government has also taken other measures to centralize its control of aid. The government has ordered that all flood aid be directed through the Prime Minister's Relief Fund, disallowing NGOs and INGOs from engaging in independent relief activities. The government has also not declared a state of emergency, further constricting what organizations can do independently.
Ostensibly, the rationale for these decisions is to ensure that aid is distributed equally and fairly. But the decisions also take place amid tensions between the Nepali government and international NGOs, with whom they have traded blame over the delayed earthquake reconstruction process. The government's decision to direct all aid through the Prime Minister's Relief Fund has been criticized for obstructing relief in the Nepali press. Still, some private groups have disobeyed the government's orders to deliver aid independently, and in some cases the DDRCs have helped coordinate independent aid, despite orders from above, according to Mahesh Nepal, a governance expert at the INGO Pact based in Nepalgunj, in the western part of the country.
Lasting effects
Many effects of the floods remain to be seen. The damage to crops is likely to continue in food shortages throughout the year. And for many people, recovering from the loss of life and property will be a long process that will take many years.
In Ghoghanpur village in Saptari District, Sallatul Khatun, a single mother of four young children, sits on top of a pile of tin sheets and rough-hewn wood — the remains of her home. She cries silently — she has a disability that prevents her from speaking. Though she is landless, members of her community had built the home for her to live in earlier this year, as an act of charity. It was simple, and lacked a toilet, but it was a space she could call her own.
For now, she and her children shelter in a local school.
Peter Gill is an American journalist based in Nepal.  He tweets at @pitaarji. 
Bhola Paswan is a Nepali journalist who focuses on education and Dalit issues.  He writes for Nagarik, Kantipur, and others, and tweets at @paswanbhola.