Glacial Melt is Dispossessing Nepal's Indigenous Communities
Shrinking glaciers are forcing residents to flee, leaving a scattering of ghost towns across the country's unforgiving north.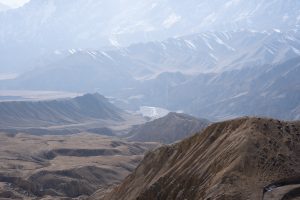 The journey to the Fuchhme Glacier, in the Himalayan peaks of northern Nepal in Mustang, begins thousands of feet below, in the capital Kathmandu, a city of 1.4 million people, where smoke from diesel trucks and brick kiln fire dims the sky. The route passes through a churning sprawl of mid-hill cities until the trans-Himalayas come into view. A steep wall rising above the plains, the Himalayas are the product of a tectonic collision that began millions of years ago and is still underway. From there, the road snakes upward, past the deepest gorge in the world bearing trucks and taxis and every other kind of moving evidence of Nepal's economic transformation. In the mountains, the number of cars drops sharply — limited by the rough terrain. After the town of Tatopani, the air cools, and the road cuts through forests of spruce, cedar, and fir.
At higher elevations, the valley deepens; the walls rise a thousand feet on either side, in layers of colored sediment, each representing a different mineral and a different epoch. The landscape surrounding the Fuchhme Glacier is desolate, but with an occasional surprise: a Himalayan griffon vulture, a butterfly with purple wings. A solitary black crow flew along the length of the glacier.
The glacier Fuchhme, named as such due to the absence of a scientific name, is situated upstream of the treeless Dhye village, which is set in a hauntingly beautiful yet unforgiving mountainous desert. Here, land once used for growing vegetables has become barren. Yak herders describe their difficulties in locating suitable grazing areas for livestock. With dwindling food and zero infrastructure, most families have packed their belongings and left, driven out by the vanishing glacier.
Forty years ago, Kancho Dolkar, a local herder and inhabitant, says she recalls a stream called Fuchhme flowing right through the side valley. This torrent ran down from a glacier, 5,350 meters above sea level. Swelled with snow melt, Fuchhme could hardly be traversed during the summer.
Kancho's father, 89 years of age, remembers a time when the glacier-fed stream hung over the town, like a glistening-white mantle. But in the intervening years, the flow of the stream has ebbed. Then in one late summer in the 1990s, for the first time in memory, Fuchhme dried up to a worrisome extent. A team of inhabitants trudged up the gully above the village to investigate what had happened to their only source of water, only to find that the glacier had retreated off the sheer headwall, causing an acute water shortage.
Over the next few years, the day-to-day life of the village collapsed and most of the households cleared out. Out of 24 households, only six now remain. Dolkar is one of the remaining nine inhabitants of the village. She talks about boredom, and about missing her community. Her seven children and most of her fellow villagers have migrated to nearby urban settlements, but she is determined to remain in reverence to her ancestral land. The 52-year-old herds 300 sheep and goats and a flock of Himalayan yaks. In 2013, her husband migrated to Kathmandu, but returned a year later, not because his old home had become any better, he said, "but because the urban cities are getting worse and there are no jobs for people who live in the corners."
Sixty-three-year-old Lama Tsering, who also abandoned his home in Samzong, a village that lies a two-day trek from Dhye, pointed to his shins, just below his knee, and said: "More than a decade ago, when it snowed, it would come up to here. But now, it's barely a few inches. The mountains barely have any snow on them. In the months of March and April, the melting of snow and the occurrence of rainfall would provide sufficient irrigation to the fields, enabling the sowing of various crops such as barley, wheat, peas, and potatoes. But with lower levels of snowfall, the sowing season has gone awry."
Tsering is not mistaken. Sudeep Thakuri, a glaciologist at Tribhuvan University in Kathmandu who oversaw a research expedition recording the retreat in both glacial mass and snowfall in the Himalayas over the last few decades, says that these changes could have far-reaching consequences for hazard risk and food and water security. He says, "The Himalayan region's other sparsely populated villages have witnessed shifting weather patterns that have already altered people's lives through droughts."
Inside the Ghost Villages
From afar, the village of Samzong appears to be deserted. The few remaining inhabitants say the settlement was built more than 500 years ago, and little has changed. It boasts thatched mud houses with whitewashed walls, an ancient Tibetan Buddhist monastery, and surrounding lands so arid and bleak they're almost lunar.
Smoke billows from the chimneys of less than eight active households. But, as in Dhye, most of the homes were silent and covered in thick dust. Some looked like they'd been left in haste. Empty window frames offered glimpses of lives lived – and households abruptly left. Samzong and Dhye are two of the many "ghost villages" that have become ubiquitous across the region.
These issues are particularly pressing in villages that are fed by water from Himalayan glaciers, as climate change further alters the environment and the lives of those who live there. The changes have forced hundreds to migrate to mainly urban settlements, while others work to make these places more habitable.
The indigenous communities of the upper Himalayas are known for their age-old lifestyle, which has adapted to one of the most hostile landscapes in the world. The people of Upper Mustang are some of the last guardians of the Tibetan spiritual identity, whose century-old cultural identity and practices have been weakened by mass out-migration.
The region's economy, which once depended on pastoralism, agriculture, and barter, has atrophied as its pastures have turned to dust and its streams have been reduced to an oily trickle. One 2019 study reported that the vegetation cover in rangelands in Upper Mustang had decreased by 4.3 percent over the past 30 years, leading to a decline in forage production and an increase in soil erosion.
"Indigenous people are among the first to face the direct consequences of climate change, due to their dependence upon, and close relationship, with the environment and its resources," said Binaya Pasakhana, a livelihood researcher at the International Centre for Integrated Mountain Development (ICIMOD). "Communities like Dhye have been at the heart of these changes, compounded by lack of infrastructure and shrinking grazing land."
One study found that pasture lands in the Himalayas are decreasing at an increasing rate per year, with changes in temperature and precipitation patterns affecting the availability and quality of grazing lands. This has led to decreases in the productivity and health of livestock, as well as a decline in the incomes and livelihoods of pastoral communities who rely on grazing lands.
Tsering says that there are also some positives. Thanks to the changing climate, farmers in the region are now able to grow vegetables like cauliflower, cabbage, chili, tomato, and cucumber, which was previously impossible due to the extreme cold. Local fruits are also now larger and tastier, and new plants that were once only grew at lower altitudes can now be found in the area. The Himalayan district is now greener than it was a few decades ago, and many residents attribute this to the changing climate, rather than technological inputs or improved seed varieties.
Pasang Dolma Sherpa, the executive director of the Center for Indigenous Research and Development, an NGO devoted to the promotion, protection, and recognition of Indigenous peoples, said that while these changes may seem like a blessing, they are signs of "environmental and ecological changes" that could have long-term negative impacts. She added, "Most people in the area are still unaware of the full consequences of global warming. The communities who are most vulnerable to the effects of climate change are generally unaware of the nature of possible impacts, and may not be fully prepared to deal with them."
Shrinking Glaciers, Shrinking Settlements
Just over a decade ago, relatively little was known about the glaciers that run through the Hindu Kush Himalayas, the vast and icy mountain range system that runs across Central and South Asia, from Afghanistan in the west to Myanmar in the east.
In the past decade, research efforts have intensified, largely driven by a major error in a report published in 2007 by the intergovernmental Panel on Climate Change (IPCC). The report incorrectly predicted that Himalayan glaciers would disappear by 2035, prompting a closer examination of the subject. This increased focus has resulted in significant advancements in our understanding of glacier loss. Scientists have sounded the alarm: a 2014 study by ICIMOD that was conducted using satellite data showed that between 1980 and 2010, Nepal lost a quarter of its glacier area.
While many of the world's 198,000 glaciers have been studied extensively, the few in Nepal remain mostly unexamined. As Sudeep Thakuri, a researcher in glaciology, put it, "this side of the Himalayas is a blank hole." The reasons are largely financial: Nepal is a relatively poor country, and there are scant funds available for research. "To adequately study the Himalayan glaciers, we need thirty to forty times more money and technical support than we actually receive," Thakuri told The Diplomat.
The 2019 report from ICIMOD paints a daunting picture of the future. The Hindu Kush Himalaya Assessment warns that if greenhouse gas emissions continue at their current rate and global temperatures rise by more than 4 degrees Celsius by the year 2100, the Himalayan region could lose up to two-thirds of its glaciers. Even if global warming is kept below 1.5 degrees Celsius, the study predicts that a third of the glaciers in the Hindu Kush-Himalayan region and over half of those in the eastern Himalaya will likely disappear by the end of the century.
The report predicts that the loss of glaciers could lead to severe water shortages for the 250 million people living in the Hindu Kush Himalaya (HKH) region, and affect another 1.6 billion people downstream who rely on the rivers fed by the ice pack. This could have major consequences for the eight densely populated countries in the HKH, including India and Bangladesh, which depend on intact glacier ecosystems for their energy, clean air, and livelihoods.
Running Out of Options
While the likes of Kancho Dolkar have chosen to stay on in Dhye, other members of the village chose to leave after water became too scarce. A few kilometers downstream, they recently built a new village, named Chambaleh, where they work in a village collective, growing and selling apples.
But the settlement process in Chambaleh is fraught as well. The village still isn't recognized by the federal government, which means its residents don't have a legal right to the land. This weakens their tenure security, makes it difficult to bequeath land to their children, and creates challenges when applying for essential services such as getting their homes connected to the electrical grid. They have a hard time procuring credit from banks to build houses and selling their apples at the market for a fair price, thanks to local taxes levied on agricultural products from unregistered farms.
Chairman Raju Bista of Lo-Gekar Municipality which includes the village of Dhye and Samzong, says that the residents have little say about local issues, and that their grievances aren't represented in national discussions. They say they feel disconnected due to their remote location and hardly know what's happening in their district or the country at large.
Sherpa says that this issue is common across Nepal's indigenous communities. "There is a lack of proper compensation or recognition when they are affected by climate crises," she said. "The root of the problem lies in the fact that many vulnerable communities do not possess land certificates."
Meanwhile, indigenous people have been living in their lands for centuries without realizing the changes within the government structures. The Chepang community in Chitwan National Park, and other indigenous groups living within Bardia and Shuklaphanta National Park, never applied for a land certificate, despite having lived there for many years, due to fear of paying fees and lack of awareness about government policies.
Besides, indigenous communities have limited resources and capacity to participate in the complex and often resource-intensive processes of accessing climate change compensation. "The government has made false promises to relocate them and provide proper land. However, these promises are rarely fulfilled, leaving many indigenous people as illegal settlers in the eyes of the government," said Sherpa. "Dealing with this issue requires significant policy changes that have not been made so far."
Implementation Gaps
Raju Pandit Chhetri, a member of the climate change council of Nepal and executive director of an NGO that works with climate change policy and research, says that the migration that followed the phenomenal drought in Dhye and Samzong shows how climate-vulnerable communities have now gone beyond adaptation.
"For indigenous communities, we have not only been unable to secure their land rights but have also failed to assist them in diversifying agricultural products, building sturdier and resilient homes, diversifying income sources, and providing insurance facilities. At all levels, these should be our priority," said Chhetri.
In the context of climate change, Nepal has two important policy documents: the National Adaptation Plan (NAP) and the Nationally Determined Contributions (NDC). The NAP focuses on adaptation strategies to reduce the impacts of climate change on vulnerable communities, while the NDC focuses on mitigation strategies to reduce greenhouse gas emissions and promote sustainable development.
It is conspicuous that Indigenous people in Nepal have been overlooked by governments that were constitutionally bound to uphold their rights. According to Chhetri, "Our overall climate policies look promising on paper, but the implementation on the ground is minimal and they often do not extend to frontier regions where many indigenous communities reside."
Where Will They Go?
Since 1990, the IPCC has emphasized that the most significant consequence of climate change will be its impact on human migration. Presently, experts predict that by 2050, there could be as many as 200 million climate refugees worldwide. This includes 42 million individuals in Bangladesh and 36 million in coastal India, who will be forced to relocate due to rising sea levels.
In Nepal, the recent monsoon season saw more than 80,000 dengue infections in an unprecedented outbreak, which researchers attribute to the effects of a warming climate. The Bara district experienced a rare tornado that claimed the lives of 80 people and destroyed entire villages. Furthermore, flooding and inundation in the Tarai region are worsening year by year. In various other Nepali districts, such as Kavre, Ramechhap, and Mustang, entire households have been compelled to relocate as water sources have dried up due to extended periods of drought.
Migration often announces itself with disasters and devastation but the resettlement at Chambaleh reflected a quieter type of disruption. Even still, the locals said it was clear that a seismic shift was taking place around them. For Kancho Dolkar and others across Nepal, climate change is something that was imposed on them by the rest of the world and is impacting the fate of the glaciers that are so integral to the survival of their communities.
For a country like Nepal, which barely has the institutional capacity or financial resources to adequately manage development in the remote frontier regions, let alone to pay the premiums necessary to ameliorate the challenges brought upon by climate change, Sherpa poses a critical question: How can communities on the forefront of climate change sustain themselves in the lack of even basic infrastructure?
The article was supported by a grant from Internews' Earth Journalism Network.