India to Procure Over 230 New Helicopters for Navy
India has launched a global hunt for 123 naval multirole helicopters and 111 armed naval light utility choppers.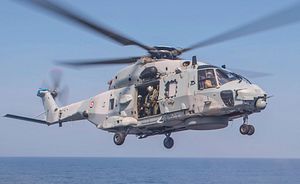 The Indian Ministry of Defense (MoD) has officially issued a Request for Information (RFI) for over 230 new helicopters for the Indian Navy this week. The new RFI constitutes one of the biggest global tenders issued for military helicopters recently.
In detail, the Indian Navy is interested in procuring 123 naval multi-role helicopters (NMRH) with anti-submarine warfare capabilities, and 111 armed light naval utility helicopters (NUH). The total value of the two contracts is estimated at over $10 billion. The RFI was sent to six original equipment manufacturers. The deadline for submitting RFIs is in the middle of October. Vendors will then be issued so-called Request for Proposals (RFP) that will include detailed technically specifications for the helicopters, required offset obligations, and mandated technology, among other things.
A final contract is not expected to be inked for a number of years.
The Indian Navy's latest acquisition project will be executed under a new strategic partnership policy. In June, the Indian MoD published guidelines for a new strategic partnership policy under the framework of the Defense Procurement Procedure 2016 to facilitate the manufacturing of military hardware locally as part of Prime Minister Narendra Modi's "Make in India" initiative. Global vendors are expected to produce the helicopters locally in India with an Indian partner via joint ventures and technology transfers. The Indian company will be selected by the government in parallel with the global vendor.
The Indian Navy currently operates 11 Kamov-28 and 17 Sea King ASW helicopters. The majority of the helicopters, however, are not operational.  According to Defense Industry Daily, the Indian Navy has four flyable Kamov Ka-28 helicopters, whereas the serviceability rate of the Sea Kings was below 30 percent, according to a report by India's Comptroller and Auditor General (CAG), the government's principal auditor.
India also cleared the purchase of 16 U.S.-made Sikorsky S-70B-x helicopter in 2014. However, the procurement "has not made any headway," the Times of India reports.
The Indian Navy is reportedly looking for an NMRH helicopter with full anti-submarine capability, as well as anti-surface warfare capability including anti-ship missiles. Candidates could include the NHIndustries NH 90 twin-engine helicopter, the naval Super Puma, the Mitsubishi H-60 and the Agusta Westland AW101 (if the company receives permission from the Indian government to bid).
NUH requirements "involve machines with a maximum take-off weight of 4.5 tons, as a replacement for existing HAL Cheetah and Chetak designs derived from the ancient Alouette-III," Defense Industry Daily reports. Possible candidates include the Airbus AS565 Panther light naval helicopter and a derivative of AgustaWestland's AW109 LUH (again if the company is cleared by the Indian government to submit a tender.)