Is Apple Kowtowing to China?
Apple removes VPN apps from China stores and opens its first data center in China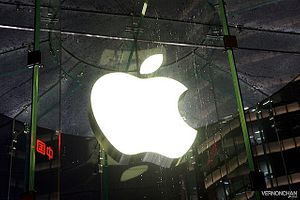 As China systematically tightens its grip on the free flow of information — the internet in particular — the American tech giant Apple seems to have bent its knees, too.
On July 29, multiple VPN service providers announced that they had received notice from Apple that their apps were removed from the China app store. Based on the BBC's calculation, at least 60 VPNs were pulled over the weekend.
On July 30, Apple in China acknowledged the removal in a statement, claiming that they had received a request from the Chinese government to remove some "non-compliant VPN apps" in the China store.
Ironically, Apple added in its statement that the operation of these apps in other markets will not be affected, though the future of the affected VPN service providers is seriously in doubt.
As most Chinese observers know, a VPN (virtual private network) is a third-party service that routes web traffic through servers in another country or location. For netizens in China, VPNs are the only resort to bypass the Great Firewall (GFW) and get access to the international internet.
Earlier in January 2017, China declared its decision to crackdown on VPNs; on July 10, Bloomberg reported a detailed timeline, according to which China's government required the three big Chinese telecommunications firms — China Mobile, China Unicom, and China Telecom — to ban individuals' access to VPNs by February 1. Apple's latest removal of VPN apps is undoubtedly a part of the national crackdown.
However, this is not Apple's first time cooperating with the Chinese government.
Earlier in July, to comply with China's Cybersecurity Law, Apple announced it would open its first data center in China.
An Apple spokesman in Shanghai told Reuters that China's regulations "require cloud services be operated by Chinese companies," so Apple will not only open its data center in China but partner with a Chinese data management firm — Guizhou-Cloud Big Data Industry Co Ltd — to offer iCloud. It's noteworthy that Apple is the first foreign firm to announce amendments to its data storage to comply with China's regulations, according to Reuters.
As China — currently Apple's second largest market — is becoming the company's most important market, no one doubts Apple CEO Tim Cook's enthusiasm for China. However, one of the most important reasons that fans remain loyal to Apple's more-expensive-than-average products is its idealism, which Steve Jobs implanted into the company long time ago. Let's recall Apple's best-known commercial, launched in 1984: "On January 24th, Apple Computer will introduce Macintosh. And you'll see why 1984 won't be like [the novel] 1984."
Now, 33 years after the year of 1984, are we going to see 2017 become a bit more like 1984 — with Apple's assistance?
Charlotte Gao holds a MA degree in Asian Studies. Her research interests center around East Asian topics. She has worked in the past as a news editor, reporter, and writer for multiple traditional, online, and new media outlets.