Top US, Japan Defense and Diplomatic Officials Meet to Discuss Alliance, Regional Issues
Top U.S. and Japanese officials discuss North Korea, the East China Sea, and much more.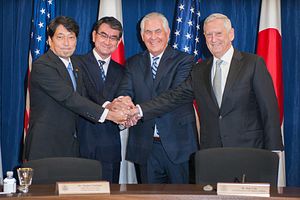 On Thursday, the top defense and diplomatic officials of the United States and Japan met for a so-called two-plus-two meeting in Washington, DC.
The meeting was the first such meeting since a cabinet reshuffle in Japan in early August, which elevated Taro Kono to the position of foreign minister and returned Itsunori Onodera to the office of defense minister.
The United States was represented by Secretary of State Rex Tillerson and Secretary of Defense Jim Mattis.
Thursday's meeting focused on a range of regional issues, including ongoing tensions with North Korea, and the future of the U.S.-Japan alliance and defense cooperation.
The officials additionally reviewed the ongoing implementation of the revised U.S.-Japan defense cooperation guidelines in 2015.
A joint statement released after the meeting highlighted a strong condemnation of North Korea's "recurring provocations," which they noted had "entered a new phase" this year.
As is normal, the statement underlined that the United States would preserve Japan's security using the "full range of capabilities, including U.S. nuclear forces."
The statement included a note on trilateral U.S.-Japan cooperation with South Korea. Concerning trilateral cooperation, the officials "emphasized the need to enhance information-sharing and expand trilateral exercises, including missile warning, anti-submarine warfare, and maritime interdiction operations exercises."
The statement additionally "called on the international community to comprehensively and thoroughly implement the United Nations Security Council resolutions including the newly adopted Resolution 2371."
The statement also drew attention to "continuing concerns about the security environment in the East China Sea."
Notably, the statement included an affirmation that Article V of the U.S.-Japan mutual defense treaty would apply to the Senkaku Islands, which Japan administers, but China claims.
Thursday's statement also addressed the ongoing situation in the South China Sea, where both Japan and the United States have staked out an interest in the preservation of the regional status quo and the maintenance of international law.
The statement reaffirmed U.S.-Japan "opposition to unilateral coercive actions by claimants, including the reclamation and militarization of disputed features, that alter the status quo and increase tensions."
The statement also devoted considerable attention to the implementation of the 2015 U.S.-Japan defense cooperation guidelines, noting "their shared commitment to enhance and accelerate cooperation in such areas as bilateral planning, air and missile defense, non-combatant evacuation operations, defense equipment and technology cooperation, intelligence cooperation and information security."