US Air Force Exercise Kicks Off with Singapore's Participation
The city-state continues its involvement in Exercise Red Flag.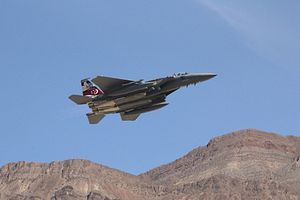 On August 14, the United States Air Force (USAF) kicked off the latest part of this year's iteration of an air-to-air combat training exercise at Nellis Air Force Base in Nevada. The drills, which will last for around two weeks, will see Singapore once again participate as it has done through the decades.
Exercise Red Flag, which was first established in 1975, is considered the USAF's premier air-to-air combat training exercise. Held at Nellis Air Force Base in Nevada, its various components usually see representation from various parts of the air force as well as participation from U.S. allies and partners whether in terms of directly joining or observing them.
Singapore has been participating in Exercise Red Flag since 1982. As I have noted before, this is just one of a range of exercises that both the United States and Singapore participate in, which includes bilateral ones like Exercise Tiger Balm, the longest-running bilateral army drills held in the two countries since 1981, and multilateral ones such as the Cobra Gold exercises and the Rim of the Pacific (RIMPAC) exercises (See: "Strengthening US-Singapore Strategic Partnership")
The city-state's participation in Exercise Red Flag in particular is notable because it is an example of how the land-scarce city-state can draw on its strategic partnership with the United States to get space for the Republic of Singapore Air Force (RSAF) to operate its aircraft. This is evident in several of Singapore's other defense relationships as well, including with India and Australia (See: "The Enduring Logic of the New Australia-Singapore Military Training Deal").
The latest round of this year's iteration of Exercise Red Flag, called Exercise Red Flag 17-4, kicked off this week and will take place until August 25, according to the U.S. Air Force. It will be the fourth round for fiscal year 2017 following previous ones that kicked off in January, February, and July. Exercise Red Flag 17-4 will see participation from Singapore and Saudi Arabia along with observers from Chile, Oman, and Romania.
According to Singapore's defense ministry (MINDEF), this year Singapore will participate in Exercise Red Flag by deploying eight F-15SG fighter aircraft and more than 100 personnel from its Peace Carvin V detachment in Mountain Home Air Force Base in Idaho.
MINDEF said that the exercise, which will involve up to 100 aircraft and will see participants engage in air-to-air and air-to-ground training missions, will provide an opportunity to not only enhance professionalism and interoperability among participating forces, but provide the RSAF an opportunity to benchmark itself against other leading air forces.