The Enduring Strategic Logic of the New Australia-Singapore Military Training Deal
The domestic difficulties of operationalizing an agreement should not detract from its clear strategic logic.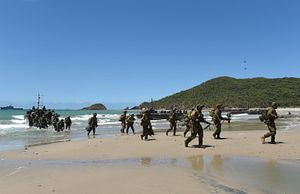 On February 7, Australia's Defense Minister Marisa Payne announced that Canberra would no longer push forced land sales to make way for expanded training facilities for Singapore under a new military deal inked last year. The development highlights the domestic difficulties of operationalizing the agreement despite its clear strategic logic for both countries from a foreign policy perspective.
The deal in question was one reached by the two countries on October 13, 2016, where Singapore would invest A$2.25 billion ($1.7 billion) to expand its existing military facilities in northeastern Australia (See: "What's Behind the New Singapore-Australia Military Deal?"). The Memorandum of Understanding Concerning Military Training and Training Area Development in Australia would see enhanced training access for up to 14,000 Singapore Armed Forces (SAF) personnel in Australia for up to 18 weeks per year over the next 25 years. To facilitate this, there would be an upgrading of existing facilities in Townsville and Shoalwater Bay in Queensland.
From a foreign policy perspective, the strategic logic of the deal was clear for both sides. Broadly, it is part of an effort by two highly-capable actors in the Indo-Pacific to strengthen ties in the face of manifold security challenges, which include not only the rise of China but terrorism, cybersecurity, and humanitarian crises. Singapore and Australia have a relationship that dates back decades, with both joining the Five Power Defense Arrangement back in 1971 along with the United Kingdom, New Zealand, and Malaysia. And both countries have looked to build on the firm foundation of that relationship even further in recent years, elevating ties to a comprehensive strategic partnership in 2015 and reaching a series of important agreements across the relationship since then in areas like military intelligence and science and technology (See: "Australia and Singapore: What's in a New Strategic Partnership?").
More specifically, the deal also brought benefits for each country. For land-scarce Singapore, it would lock in a long-term opportunity for more room to train its armed forces in more ways. Though Singaporean troops have been training in Australia since 1990, the expanded military facilities would see the number of troops the city-state has on rotation in the country go from 6,000 to 14,000. Furthermore, defense officials had said that the expanded area – ten times the size of Singapore – would create room for new projects, including a new range as well as a mock city for troops to hone urban warfare skills. Singapore's Defense Minister Ng Eng Hen says he sees this as a "quantum jump" in the quality of SAF training.
But this is far from a one-sided proposition. For Australia, training with a more capable partner brings its own benefits. Beyond the government itself, as Australia's defense ministry has tirelessly pointed out, the deal would also bring significant economic benefits to the Townsville and Rockhampton regions, which would be affected by the expansion of training facilities. In addition to the significant existing investment being made by the two militaries and the money to be spent annually under the new agreement, the agreement also specifies some advantages for those areas in particular, including priority being given to local businesses.
Yet the way in which the agreement was being implemented had understandably raised some domestic concerns in Australia. In particular, news of land owners being forcibly required to sell land for the additional training areas under the agreement had led to discontent in the communities and their representatives. In response, the defense ministry has been showing signs of adjusting its approach, broadening consultations with stakeholders and moving certain deadlines forward to bring additional clarity. The announcement this week by Payne that the government will only purchase land from "willing sellers" around Shoalwater Bay Training Area and Townsville Field Training Area is yet another concession that will go a long way in helping to manage these concerns.
Yet even as we see these sensationalist headlines as well as the usual back and forth of negotiations play out over time, it is vital to keep the big picture in perspective. Opposition is not altogether unexpected in deals of this ilk. Indeed, given what we have seen so far, there may even be more adjustments that the Australian government will need to make to realize the agreement. Both countries will need to consult on that issue as they work out the master-planning following the MoU and then move to implement it.
But perhaps most importantly, even as the domestic headwinds might have muddied the waters a bit on the operationalization of the pact, that should not detract from its clear strategic logic for both sides.