US Approves New Thailand Military Sale Under Trump
Possible arms sale speaks to ongoing developments in the defense realm between the two sides in spite of irritants.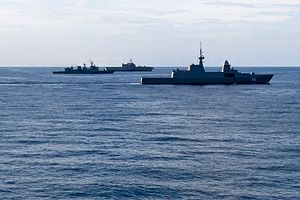 Last week, the United States moved a step toward approving a new possible arms sale to Thailand. Though the sale of Harpoon missiles is just the latest defense deal between the two longtime allies and has long been on the cards for Bangkok, it nonetheless speaks to the ongoing development of ties in the defense realm during the Trump era.
As I have noted before, since U.S. President Donald Trump took office last November, there has been speculation about a boost for the U.S.-Thailand alliance, which had initially grown frostier following a coup and the rise of a junta-led government in May 2014 (See: "A US-Thailand Alliance Boost Under Trump and Prayut?").
Though a summit meeting between Trump and junta leader Prayut Chan-o-cha is still yet to take place, the two sides did hold the sixth iteration of the U.S.-Thailand Strategic Dialogue last month, an indicator of the continuation of a slow normalization of ties in the post-coup period that was in fact already ongoing toward the end of the Obama administration (See: "Exclusive: Managing the Strained US-Thailand Alliance").
U.S. Secretary of State Rex Tillerson visited Thailand as part of his recent swing through Southeast Asia this past week, and Trump is also expected to visit Thailand (See: "Tillerson's First ASEAN Voyage: What's on the Agenda?").
In the post-2014 coup period, both sides have also tried to make some gains in a few areas of their relationship, particularly the defense side, even though irritants remain in other areas (See: "What's Next for US-Thailand Military Relations Under Trump?"). On arms sales, for instance, by U.S. official estimates, U.S. sales to Thailand since the coup have amounted to around $380 million, and particular sales like Black Hawk helicopters have recently been making headlines under the Trump administration in recent months.
On August 10, the United States took a step forward in approving another defense sale to Thailand. According to the Defense Security Cooperation Agency (DSCA), the State Department had made a determination approving a possible foreign military sale (FMS) to Thailand for RGM-84L Harpoon Block II Surface Launched Missiles for $24.9 million, with Boeing being the principal contractor.
The request from Thailand, the DCSA said, was for the sale of up to five RGM-84L Harpoon Block II Surface Launched Missiles and one RTM-84L Harpoon Block II Exercise Missile, with other equipment such as containers, spare and repair parts, publications and technical documentation, personnel training, and technical assistance, engineering, and logistics support services also being included.
The missiles will be placed on Thailand's DW3000-class frigate (HTMS Tha Chin) being built by South Korea's DSME under a $410 million contract signed in August 2013 (previously, Thailand had bought Harpoon missiles for the HTMS Rattanakosin and HTMS Sukhothai as well). HTMS Tha Chin, launched in South Korea in January 2017, is expected to be delivered to Thailand next year after completing trials as scheduled.
Apart from news of the sale itself, the initial confusion surrounding the response of Thai officials following the sale did not go unnoticed in local media outlets. Asked about the sale following DSCA's notification on August 10, the initial statements from Prayut as well as Defense Minister Prawit Wongsuwan seemed to indicate that there was no final approval yet on the Thai side as there were some remaining issues to be worked out.
But Royal Thai Navy (RTN) spokesman Jumpol Lumpikanon later clarified to The Bangkok Post that the confusion may have arisen because the proposed procurement of Harpoon missiles was part of the contract agreed with South Korea before Prayut or Prawit had taken their current positions.
He also said that the RTN is planning to buy another round of Harpoon missiles to equip the HTMS Trang, though he offered few additional specifics.