When Are China's Submarines Coming to Thailand?
2017 could finally see some progress on a high-profile deal.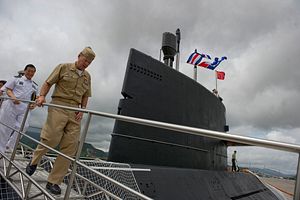 In a surprise move back in June 2015, Thailand's navy elected to buy three submarines from China in what would be one of the most expensive single acquisitions in the country's history (See: "How Did China Just Win Thailand's New Submarine Bid?").
Since then, although the debate about the wider strategic significance of the billion-dollar deal has continued, the proposed purchase itself has been repeatedly delayed, thereby further postponing the country's dream of acquiring a capability it has lacked for more than six decades (See: "Thailand Eyes Submarine Fleet").
As we move into 2017, however, indications are we could finally see some progress on this front.
As I've detailed previously for The Diplomat, the initial plan to purchase the submarines floated in mid-2015 was put on hold after fierce domestic opposition and international scrutiny. A revised plan was then floated in 2016, and the submarine purchase was also included in Thailand's 2017 defense budget approved last September (See: "The Truth About Thailand's 2017 Defense Budget 'Hike'").
2017 has already seen more steps towards making this a reality. For instance, earlier this month, the RTN released a reference price document which detailed specifications regarding the purchase of the first of the three submarines, including anticipated costs. That document stipulated that the first submarine would cost 13.5 billion Thai baht ($376 million) and would include weapons systems, spare parts, technology transfer, and other items, with the total program reaching over $1.1 billion.
That document will then pave the way for an agreement between Thailand and China for the purchase of the first submarine. A final proposal was supposed to be submitted later this month, with all related administrative processes completed by the first quarter of 2017 and the contract inked later this year. If that occurs according to schedule, we could see the first submarine delivered to Thailand by the early 2020s.
Following some media reports, IHS Jane's cited unnamed sources this month confirming that specifics were being laid out in a broader 11-year procurement plan is being finalized by the RTN. Funding for the first submarine would be sourced from the 2017 defense budget, and orders for the two other ones were expected before 2021 or 2022, with payments to China continuing until 2027.
These specifics are certainly a lot more than what we had even six months ago and they suggest that there continues to be political will to see this purchase through in spite of lingering concerns in some circles. But for those familiar with Thailand's decades-long quest for submarines, that also still leaves plenty of time for even more hiccups further down the line.