US Navy World War II-Era Heavy Cruiser Wreckage Discovered in Pacific
The U.S. warship was sunk by a Japanese submarine in July 1945. It delivered parts for the atomic bomb dropped over Hiroshima.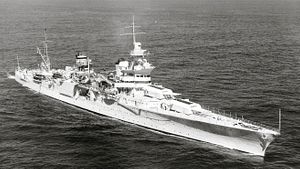 Seventy-two years after two torpedoes fired from a Japanese submarine sunk the U.S. Navy heavy cruiser USS Indianapolis, the ship's wreckage was discovered 5,500 meters below the surface resting on the floor of the North Pacific Ocean by the expedition crew of Microsoft co-founder Paul G. Allen's Research Vessel Petrel on August 18.
"To be able to honor the brave men of the USS Indianapolis and their families through the discovery of a ship that played such a significant role during World War II is truly humbling," Allen said in an August 19 statement. "As Americans, we all owe a debt of gratitude to the crew for their courage, persistence and sacrifice in the face of horrendous circumstances. While our search for the rest of the wreckage will continue, I hope everyone connected to this historic ship will feel some measure of closure at this discovery so long in coming."
The USS Indianapolis, a 9,800-ton Portland-class heavy cruiser, had just completed a secret mission of delivering components for the first operational atomic bomb, "Little Boy" from California to a naval base on the Pacific island of Tinian when the ship was torpedoed by a Japanese submarine in the early morning hours of July 30, 1945. The battlecruiser, en route from Guam to Leyte, sank in only 12 minutes. The ship's sinking was only noticed a few days later. While around 800 of the ship's 1,196 sailors and Marines survived the sinking only 316 men survived after four to five harrowing days at sea.
According to a Discovery Channel documentary, the sinking of the USS Indianapolis resulted in the greatest shark attack on humans in recorded history. While most of the sailors and marines died of exposure, salt poisoning and thirst, many of the dead were dragged off by sharks. Steven Spielberg's 1975 film Jaws contributed to the myth that the majority of Indianapolis survivors were killed by sharks. In it, the Ahab-like figure of Captain Quint, a fictional survivor of the sinking of the Indianapolis, recounts his ordeal in a monologue and why he'll "never put on a lifejacket again."
"I'm very happy that they found it. It's been a long 72 years coming," said a statement released by the 93-year old Indianapolis survivor Arthur Leenerman. "I have wished for years that they would find it. The lost at sea families will feel pretty sad but I think finding the ship will also give them some closure. I'm glad that the search was successful. It will be interesting to see where it was found and how deep it was resting. "