US-Vietnam Defense Relations Under Trump Get a Boost With First Aircraft Carrier Visit
The move represents yet another step forward for security ties under the Trump administration amid lingering concerns.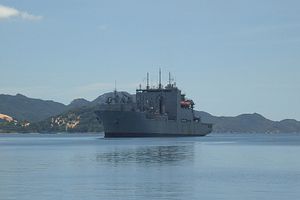 WASHINGTON, DC – Though Vietnamese Defense Minister Ngo Xuan Lich and U.S. Defense Secretary Jim Mattis discussed a wide range of issues in their bilateral defense ties during their August 8 meeting, the biggest headline item that emerged was the first visit of a U.S. aircraft carrier to Vietnam, set for next year. While the move had long been under discussion by both sides, it represents yet another step forward for a relationship that has seen some quick gains in the Trump administration thus far despite deeper, lingering challenges that remain.
As I have noted previously, the United States and Vietnam have a broad defense relationship, built in line with the gradual normalization of ties that has taken place since U.S. President Bill Clinton was in office in 1995. Defense cooperation has slowly grown to encompass areas including maritime security, humanitarian assistance and disaster relief, and peacekeeping (See: "(See: "US-Vietnam Defense Ties: Problems and Prospects").
But bilateral defense relations have also been strengthening over the past few years as part of a broader comprehensive partnership signed in 2013 under former U.S. President Barack Obama, who presided over the historic lifting of a decades-old arms embargo on Vietnam toward the end of his presidency (See: "Why the Lifting of the US Arms Embargo to Vietnam Matters").
The positive momentum in U.S.-Vietnam ties looks to be continuing under the new administration of U.S. President Donald Trump so far. A string of high-level visits have already gotten underway quickly, including the White House visit of Prime Minister Nguyen Xuan Phuc in May. Trump has also committed to going to the Asia-Pacific Economic Cooperation Summit (APEC) in Vietnam this November, and there has been a series of moves in the maritime security domain, including the handing over of patrol boats and a Coast Guard cutter as well as U.S. port visits and other naval engagements (See: "US, Vietnam Kick Off First Naval Engagement Activity in Trump Era").
To be sure, greater alignment is needed on a few issues like trade and North Korea, and Hanoi in particular, not unlike some of its other Southeast Asian neighbors, has wider, lingering concerns about how U.S. Asia policy will shape up under this administration (See: "The Ticking Clock on Trump's Asia Strategy"). But few would contest that the broad strategic convergence and initial momentum are both there.
On Tuesday, Vietnam's Defense Minister Ngo Xuan Lich finally met with Defense Secretary Jim Mattis in a much-anticipated meeting that had been postponed from its original date. The two took stock of defense ties to date and agreed to deepen cooperation in several areas, including more naval engagement and information-sharing. They also discussed regional security challenges, with the South China Sea being a focus given Hanoi's growing concerns about new manifestations of old Chinese assertiveness, including stopping Vietnam from exploring and exploiting energy resources within its own waters (See: "Will a China-ASEAN South China Sea Code of Conduct Really Matter?").
But the main item that grabbed the headlines was the sending of a U.S. aircraft carrier to Vietnam next year. Though the move should be seen in the context of the broader relationship, its significance ought not to be missed. Washington has long signaled it would like to see such advances in maritime cooperation, especially steps like this, which signal that its allies and partners are willing to support the very U.S. regional presence that they privately call for but at times remain far quieter publicly about.
And while Hanoi has been careful to calibrate how quickly it pushes its defense ties with Washington – as they often need to be weighed against other considerations such as domestic politics as well as the balancing of its foreign relationships, including with its neighbor China – the fact that moves like an aircraft carrier visit are being agreed to speaks for itself in terms of its assessment of the current regional security environment and how that affects how Vietnam will pursue its interests and its alignments with major powers.
To be sure, a more thorough assessment of the significance of this move and what it means for bilateral defense relations will only really be possible with the specifics that both sides have so far been (unsurprisingly) quiet about, and, of course, the actual realization of the agreed move. Yet it no doubt bears watching closely, given what we have seen so far in U.S.-Vietnam ties under Trump as well as the state of the Asian security environment more generally.