A New ASEAN Trilateral Terrorism 'Task Force'?
A closer look at Philippine President Rodrigo Duterte's recent suggestion.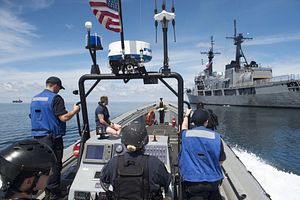 On Sunday, headlines began swirling when Philippine President Rodrigo Duterte said he may look to discuss the possibility of creating a task force with Indonesia and Malaysia to combat the Islamic State.
Over the past few months, particularly following the siege of Marawi City by Islamic State-linked militants, Indonesia, Malaysia, and the Philippines have been looking to boost cooperation among themselves to deal with the rising terrorism threat.
The clearest example of this that has dominated the headlines has been the trilateral patrols in the Sulu-Sulawesi Sea, which had been mulled since last year but were formally launched in Tarakan in June as "Indomalphi," an unwieldy name incorporating the beginning part of each of the three countries' names (See: "What's Next for the New Sulu Sea Trilateral Patrols?").
But both countries have also met to discuss how to collectively forge cooperation against terrorism, with the outlines of an initial action plan focusing on areas like sharing intelligence, curbing illicit activities along their borders, stopping terrorism financing, and containing the spread of terrorism-related content in cyberspace (See: "What Did The ASEAN Trilateral Terror Meeting Achieve?").
On September 3, Duterte told reporters that in future meetings with his Malaysian and Indonesian counterparts there could be creation of a "joint… task force." He also added that he would open the country's borders to Malaysian and Indonesian authorities, saying that they would "be given access."
All three countries have certainly discussed ways to coordinate their activities in various respects, focusing on areas like intelligence coordination, and they are set to meet again later this year, either separately or on the sidelines of upcoming regional meetings. But the public formation of a joint task force – conventionally understood to be interagency and/or multinational formations directed at particular operations (in this case terrorism) – would represent quite a dramatic acceleration in subregional cooperation.
This is particularly the case given the significant obstacles to trilateral counterterrorism cooperation that officials continue to talk about, from differences in organizational culture to bureaucratic rivalries to lingering distrust among the countries, which still have disputes among them (See: "Confronting Threats in the Sulu-Sulawesi Seas: Opportunities and Challenges").
The same could be said about Duterte's offhand comment regarding opening up Philippine borders to Malaysia and Indonesia. It belies the fact that one of the thorny issues that had to be worked out before the official unveiling of the trilateral maritime patrols was the rules of engagement for the vessels of outside countries, which was not surprising given the remaining sovereignty sensitivities between them.
The broader problem here, which is one observers have faced on several other issues as well, is that Duterte does not shy away from carelessly employing inexact language even on sensitive matters that demand exact language or no comment at all. As one Philippine defense official told me early on in the Duterte era, on issues like this one, it may be best to await word from Philippine agencies that know better or wait for an actual agreement to surface between the countries involved, rather than to simply assume that Duterte's words carry weight in and of themselves with respect to actual policy (See: "Where Are US-Philippine Defense Relations Under Duterte?").