What's With the New Sulu Sea Trilateral Air Patrols?
A closer look at a much-anticipated step that finally kicked off this week.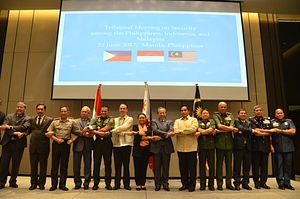 This week, Indonesia, Malaysia, and the Philippines finally launched the air patrol component of their trilateral patrols in the Sulu Sea, following the maritime patrols they had introduced back in June. The air patrols mark yet another step in the growing trilateral cooperation between the three states as they continue to confront a range of security threats amid concerns about rising Islamic State influence in the subregion (See: "Confronting Threats in the Sulu-Sulawesi Seas: Opportunities and Challenges").
As I've been writing in these pages, the three countries first begun discussing the idea of trilateral patrols back in 2016, and had finally launched maritime patrols in June after multiple delays (See: "What's Next for the New Sulu Sea Trilateral Patrols?"). Though defense officials have noted some progress since then in terms of reduced security incidents, challenges remain, including delays on some key indicators of progress.
One much-anticipated development was the establishment of air patrols to complement the existing maritime patrols. Though this is something that had been contemplated early on, it has taken some time to actually implement, and the three sides had recently agreed on a launch date of October 12.
On Thursday, as scheduled, the three countries officially announced the establishment of the Trilateral Air Patrols (TAP), the second component of the Trilateral Cooperative Arrangement (TCA). The announcement took place with the defense ministers from all three countries at Subang Air Base in Malaysia.
The TAP, as it stands, is meant to adopt a monthly rotation following the opening of the air space of all three countries, with the objective being gradual coordination between the three sides and integration with the maritime patrols. Malaysian Defense Minister Hishammuddin Hussein said Malaysia would take the first lead using Royal Malaysian Air Force aircraft, after which the Philippines and Indonesia would follow. But few specifics were publicly disclosed by officials about exactly how this process would unfold.
As these trilateral patrols continue to play out, it is also important to note that though attention tends to be lavished on them by outside observers, officials from these countries continue to emphasize they are in fact only one manifestation of the responses – unilateral, bilateral, minilateral, and multilateral – being taken by the three states to counter the rising threat from the Islamic State.
Each of the three states has been stepping up their own security measures in response to the growing terror threat. And we have also seen bilateral efforts between them, whether it be setting up more joint command posts as Malaysia and Indonesia agreed to do last month at the 40th Malaysia-Indonesia General Border Committee Meeting or ongoing subregional cooperation between Malaysia and the Philippines.
On the multilateral front, we should hear more about the regional response at the ASEAN Defense Ministers' Meeting (ADMM) meeting and other related meetings that will take place next month in the Philippines, which is hosting ASEAN this year. With the Islamic State and terrorism more generally very much on the mind of Southeast Asian officials this year, as evidenced by the focus in other fora this year, developments on this front will be important to track (See: "Sulu Sea Trilateral Patrols in the Spotlight at 2017 Shangri-La Dialogue")