A Steven Seagal Guide to Eurasia
The action star has a long history of involvement in Eurasian affairs.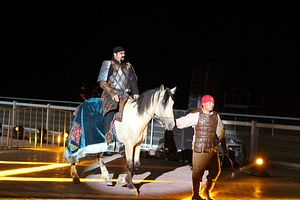 On September 16, Kyrgyzstan's Prime Minister Sapar Isakov told U.S. actor Steven Seagal that he would play a major role in Kyrgyzstan's development.
Predictably, the statement was widely ridiculed. But the action star has a long history of involvement in Eurasian affairs – even establishing a close friendship with Russian President Vladimir Putin.
Many attribute this to the actor's penchant for tall tales outrageous enough to put Baron Munchhausen to shame. Seagal, who is a black belt in Aikido, claims he was an adviser to the Central Intelligence Agency and provided security to Iran's last Shah and South African activist Desmond Tutu, among others.
But for all his absurdity — not to mention sugar-coating of authoritarian rule — his travel itineraries are second-to-nonsense. Here are some of his most bizarre, politically tone-deaf outings.
Kalmykia – Chess with a Caspian Dictator
Kalmykia, a region of Russia, is Europe's only Buddhist Republic. The republic's natives are descended from nomads who wandered the vast Central Asian steppes under Genghis Khan's empire.
Seagal, a practicing Buddhist, arrived there on November 22, 2007 where he was greeted by then-President Kirsan Ilyumzhinov. The millionaire Ilyumzhinov was elected president in 1993 and quickly turned the impoverished region into a tax haven. Under Ilyumzhinov's brutal reign, journalists were murdered and corruption thrived.
Among other things, Ilyumzhinov is a chess fanatic and claimed to have been abducted by aliens. One of their instructions was apparently to build a city dedicated to chess. Naturally, Chess City, built with money pilfered from the region's citizens, was where Seagal spent most of his trip. His photograph still hangs proudly in the central tournament hall of the city today.
Sakhalin and Kamchatka — Bear Hunting with Park Rangers
Seagal made his way to the world's edge on September 14, 2016 to visit Russia's Far Eastern Sakhalin region. The actor was there to attend the local "Edge of the World" film festival. The region comprises Russia's biggest island of Sakhalin, just off the country's east coast, and the Kuril Islands, a territory disputed by Japan.
The action star also met with local governor Oleg Kozhemyako and planted a "tree of friendship" on the premises of a new sports facility. Kozhemyako became local governor after his predecessor, Alexander Khorshavin, was charged with large-scale bribery in the resource-rich region.
Seagal's next stop was Russia's volcanic Kamchatka peninsula to go bear watching in the region's Kronotsky Nature Reserve. According to the reserve's press secretary, Maria Vorontsova, the actor played guitar for the park's staff before lecturing them on how best to prevent poaching. He was rewarded with a park ranger hat for his insight.
Crimean Peninsula — How to Become a National Security Threat
In one of Seagal's most controversial stunts, the actor and musician played a concert on the Russian-occupied Crimean peninsula in August 2014, appearing on-stage wearing the flag of pro-Russian Ukrainian separatists.
Seagal was there performing with his blues band in Sevastopol, home to Russia's Black Sea fleet, at a concert run by Russia's Night Wolves biker gang. The action star was widely condemned for supporting the peninsula's annexation by Russian forces and was removed from the lineup at an Estonian blues festival.
Prior to his controversial performance, the star described Vladimir Putin as "one of the greatest living world leaders" and went on to say that he "would like to consider [Putin] as a brother."
Ukraine has since banned the actor from entering the country, labeling him a national security threat.
Kyrgyzstan – Goat Carcass Polo at the World Nomad Games
With goat-carcass polo, hawk hunting, and burning men riding horses through Kyrgyzstan's countryside, it was only inevitable that the World Nomad Games would capture the imagination of Steven Seagal.
Seagal attended on the invitation of Kyrgyz President Almazbek Atambayev and remains an important ambassador for the games today.
During the opening ceremony, dramatic music burst from the sound system as Seagal trotted on horseback to thunderous applause wearing Kyrgyz armor.
Belarus – Being Fed Carrots by "Europe's Last Dictator"
In one of his most surreal outings, Seagal arrived in Belarus in August 2016 to do some gardening with President Alexander Lukashenko on the dictator's private estate.
Posing for photographs, the martial arts expert stood in bright orange sunglasses holding a carrot Lukashenko had dug up and peeled for him. Soon after, he was holding watermelons to his chest and giggling like a schoolboy.
The trip sparked controversy for trivializing the bleak human rights record of Lukashenko's Belarus, frequently dubbed "Europe's last dictatorship." Nevertheless, Presidential spokeswoman Natalya Eismont informed journalists that the action hero had long wanted to meet the iron-fisted ruler.
Kazakhstan — Pitching a Genghis Khan Biopic in Astana
Seagal visited the Kazakh capital in July 2011 to attend the Second Annual Astana Action International Film Festival.
At a press conference during the event the actor told local journalists: "I really want to make a movie about Genghis Khan. I get lots of offers, but I want to shoot not just a film, but a big epic. Probably, my friend – the mayor of Astana (Imangali Tasmaganbetov) – will help me."
After explaining that the U.S. film industry was "in the doldrums," Seagal went on to propose working on the project with director Timur Bekmambetov. Presumably the Kazakh film industry was on the cusp of outpacing its Hollywood rival.
The actor first proposed this film project as early as 1998 and as of the writing of this article, it is yet to begin filming – even after raising it again last week in Kyrgyzstan.
Azerbaijan — Martial Arts in the Land of Political Prisoners
Another particularly controversial visit by the American actor was to Azerbaijan, where, on September 21, 2015 a government video showed Seagal in talks with President Ilham Aliyev. The actor was in the country for Baku's hosting of the European Games, gushing over the country's "high-level conduct" in organizing the event.
The Aikido master also taught a class in Baku, informing budding martial artists: "I was lucky enough to meet with your president and I look forward to working with you as my family," before using his moves to knock a student into the air minutes later.
International human-rights groups have been calling on Azerbaijan to release its alarmingly high number of political prisoners.
Yakutia — Shine on You Crazy Diamond
In August 2015, Seagal made his way out to the heart of Siberia, the Russian republic of Yakutia. The star was there as part of a private business trip to meet with the company ALROSA as a potential investor.
ALROSA, based in Yakutia, is Russia's largest diamond producer, produces 97 percent of Russia's output and 26 percent of global diamond production. The company's controlling shares are held by the Russian government.
The actor also visited the Yakut settlement Atylakh in the Chuoninsky Nasleg district in search of his family roots. Seagal told journalists: "When the war began, people from Russia's Buddhist republics moved to America, and among them was my grandfather."
He went on to describe himself as a "Russian Mongol."
Chechnya and North Ossetia — Dancing with the Despot
Seagal's unlikely rise to diplomatic prominence started in 2004 when he vowed to "spend the rest of his life fighting terrorism," after visiting the school in North Ossetia where more than 300 people were killed in a hostage crisis.
The actor would return here in 2013 as part of a fact-finding U.S. Congressional trip investigating the Boston Marathon bombings and apparently aiming to establish greater information sharing between U.S. and Russian intelligence agencies.
Seagal also befriended neighboring Chechnya's dictator Ramzan Kadyrov, celebrating the tyrant's 37th birthday in his residence and calling him a "great leader." The Chechen leader responded by saying Seagal was practically a Chechen national.
Under Kadyrov's rule, extrajudicial killings, kidnappings, rape and the torture and murder of journalists and human rights activists has become commonplace. But that didn't stop Seagal from exchanging dance moves with him.