Kyrgyz President Warns of Modern Fascists in Russia
Victory Day in Central Asia this year was a more subdued affair, with requiems instead of parades.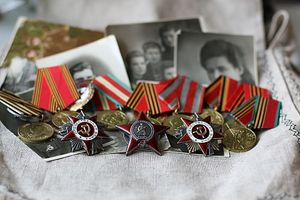 Last year for the 70th anniversary of the end of World War II–known as the Great Patriotic War in the former Soviet Union–leaders from across the region converged on Moscow for a massive military parade. The presidents of Kazakhstan, Kyrgyzstan, and Tajikistan attended the parade, and Uzbek President Islam Karimov was in Moscow, also, for an informal meeting of CIS leaders.
This year the Moscow parade went on in grand style, but the rest of the region seemed to take a more subdued approach toward the anniversary. Only Kazakh President Nursultan Nazarbayev made the trip to Moscow, after declining to hold a Victory Day parade in Astana.
Russian President Vladimir Putin praised Nazarbayev for "finding it possible to spend another holiday, our shared holiday – the Day of Victory in the Great Patriotic War – with us in Moscow, to attend the celebratory military parade." Putin said Nazarbayev's attendance was "definitely a sign of our special, allied relations" and that "what you have done today will certainly enhance our trust and will create a good environment for furthering our friendly ties tomorrow." All that for attending a parade.
Kyrgyzstan declined to hold a military parade like last year, instead holding a "requiem rally" and an "immortal regiment" march–a remembrance march in which people carry photographs of family members who served or died in the war. Kyrgyz President Almazbek Atambayev targeted a portion of his remarks toward the rise of "modern fascists" in Russia. As reported by RFE/RL's Kyrgyz service, Atambayev drew a comparison between Kyrgyz treatment of Russian refugees during the war and Russian treatment of Kyrgyz migrant workers in recent years, stressing that Kyrgyz migrant workers expect a little more respect from Russians.
Beginning in the summer of 1941, the Soviet Union organized the evacuation of critical industry and workers from areas under German threat. Rebecca Manley, in a 2009 book, To the Tashkent Station: Evacuation and Survival in the Soviet Union at War, wrote that "Between the German invasion in June 1941 and the autumn of the next year, approximately 16.5 million Soviet citizens were evacuated to the country's interior." At the same time, the authorities deported Soviet citizens of German descent, as well as other groups like Finns, to Siberia and also to Central Asia.
The organized evacuation, Manley commented, did not exactly turn out as Soviet leaders planned. When they were "confronted with a mass and largely uncontrolled movement of people, the authorities attempted to confine evacuees to their regions of resettlement, blurring the distinction between evacuees and deportees."
Atambayev's remarks come with a backdrop of economic hardship across the region. Despite Russia's recession, hundreds of thousands of Central Asians continue to migrate northward seeking work, Remittance values have dropped and currencies have depreciated, but prospects for work are seemingly still attractive enough to draw migrants to Russia. Kyrgyz migrant workers, as well as migrant workers from other Central Asian states like Tajikistan and Uzbekistan, are occasionally targeted by Russian authorities and citizens for suspicion as well as abuse. One of the factors which make migrant workers susceptible to recruitment by extremist groups is their isolation; this then helps fuel further suspicion of migrant communities, deepening their isolation.
Atambayev's lamenting about the rise of "modern fascists — skinheads" in Russia illustrates a point of tension which does not always make it into Victory Day speeches, which more often than not focus on strength and unity, a glorification of the past. "Congratulations on Victory Day! An occasion where joy, memory, and grief have merged," Putin said in his Victory Day speech.
Interestingly, Putin also mentioned the Soviet evacuation of the front, but chose not to comment on the embrace of refugees in Central Asia. Instead Putin highlighted the logistical wonder of relocating wartime industries to the heartland.