China Evacuates 462 Nationals From Dominica After Hurricane Maria
Dominica Prime Minister said the country has been devastated by hurricane Maria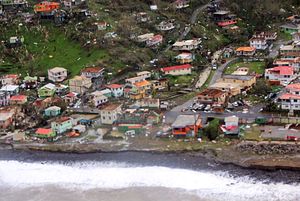 After the devastating Hurricane Maria hit the tiny Caribbean island of Dominica, 462 Chinese nationals have been evacuated from the country and transferred to neighboring Antigua and Barbuda accordingly.

On September 18, hurricane Maria devastated Dominica, leaving the island devastated: local traffic and communications paralyzed, the airport and seaports closed, and supply of foods and other goods limited. A CNN crew that flew over Dominica on September 22 reported: "Nearly every tree was touched – thousands snapped and strewn across the landscape – and the island was stripped of vegetation. The rainforests appear to have vanished." Dominica's Prime Minister Roosevelt Skerrit said, at least 15 people are dead. He also said the country's agriculture sector is 100 percent destroyed and its tourism sector about 95 percent destroyed.
On September 24, the Chinese foreign ministry noted on its consular services website that China had activated its emergency response mechanisms and quickly evacuated the first batch of 158 Chinese nationals, including two people from Taiwan and a one-month-old baby, from Dominica. By the night of September 22, the first batch had arrived in Antigua and Barbuda after a 6-hour trip.
Chinese Foreign Ministry Spokesman Lu Kang confirmed that the evacuation operation had been jointly conducted by the Chinese Embassies in Dominica, Antigua and Barbuda, Barbados, and Trinidad and Tobago. He also said that China will provide humanitarian aid to Dominica as soon as possible.
On September 27, China Central Television reported that the second batch of 304 Chinese nationals had arrived in Antigua and Barbuda at around 8 p.m. local time on Monday, bringing the total to 462 Chinese nationals evacuated from Dominica.
It is worth noting that one of China's state owned enterprises (SOE) located in the Caribbean also played a vital role in the emergency evacuation. According to a Chinese newspaper Cankaoxiaoxi, the Chinese giant SOE, China Civil Engineering Construction Corporation (CCECC), was deployed by the foreign ministry and the commerce ministry to be responsible for the evacuation.
CCECC said its local office rented a commercial ferry, which can hold 270 people, from Antigua and Barbuda, purchased water, instant noodles, candles, bread, fire and other emergency supplies, and rushed to Dominica's seaport to evacuate Chinese nationals. The whole process took a total of 12 hours.
The Chinese government's emergency measure as well as its high efficiency in the evacuation has won wide acclaim domestically. Many Chinese netizens said the incident has fully demonstrated China's rise as a major global power.