Diplomacy in Doklam: New Strategic Ground for India in South Asia
There may be no clear winner, but Doklam stands as a fine example of how to balance decisiveness with diplomacy.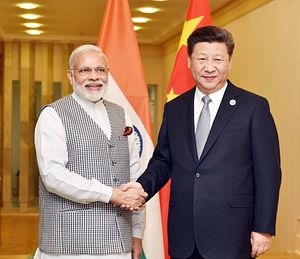 The Himalayan standoff in Doklam is over. On August 28, India's Ministry of External Affairs released its official press statement, acknowledging that back-channel diplomatic communication had been maintained between both countries over the crisis in Doklam. "During these communications, we were able to express our views and convey our concerns and interests," said the statement, "On this basis, expeditious disengagement of border personnel at the face-off site at Doklam has been agreed to and is on-going."
For nine weeks, India stoically withstood an increasingly shrill barrage of rhetoric from the Chinese media, unequivocally warning New Delhi that China would not take trespassing on its territory lying down. Even now, though it affirms that Indian troops have withdrawn to their side of the border, the Chinese Foreign Ministry (via its spokesperson Hua Chunying) claims that China will continue to "exercise its territorial rights and interests." There are, in fact, several ambiguities in the Chinese stand, post-troop withdrawal. For instance, no mention has been made in any official statement of whether Chinese personnel have been removed, or if road construction (which India objected to initially) has ended. The question of the meaning of China "fulfilling its territorial rights" has no clear answer either.
Strategically speaking, however, the timing of the withdrawal is a masterstroke. Doklam has been resolved a week before the 9th BRICS Summit, hosted by China in Xiamen, between, September 3-5. Until now, there had been definite question marks over India's attendance – and uncomfortable prospects of India's attendance, with Doklam being the rather large elephant in the room, had the issue been allowed to linger.
The upshot of the latter would have been a definite embarrassment for China, which is looking to portray itself as a reasonable and responsible superpower, while leaving no one in any doubt about its military and economic might.  In itself, this is a fine line to tread. It doesn't help that China is locked in sovereignty disputes with almost all its neighbors, from Japan, to the Philippines and Vietnam. India has already boycotted the much-vaunted Belt-Road Initiative (BRI) Summit held in May this year over questions of territorial sovereignty in the China-Pakistan Economic Corridor (CPEC). If it had boycotted the BRICS Summit as well, this would not only have severely dented the image of BRICS, but more importantly (and worryingly) for China, it would have struck a damaging blow to President Xi Jinping's political image on the international stage.
As far as the economic fallout of a potential conflict was concerned, it would have cut both ways. Both India and China were likely to lose out. China would have lost an export market valued at $61.3 billion (in 2016-2017).  India's exports to China, by contrast, stood at $10.2 billion in the same period. That being said, New Delhi has already realized the vast economic potential that China offers, and has, in this regard, pointed out the difficulties of gaining access to key sectors, such as agriculture, IT, and pharmaceuticals. Indeed, this has been one of the major drivers of the ever-increasing bilateral trade deficit, which stood at $51.1 billion in the last fiscal year.  To be sure, India has imposed anti-dumping duties on 93 products (including chemicals and petrochemicals, rubber and plastic products and electric and electronic items among others) from China. What is more, a rising nationalist streak in the country has seen the RSS-affiliate Swadesh Jagran Manch (SJM) announcing that it will intensify efforts for a "people's movement" to boycott the import of Chinese goods. This being said, China definitely never wanted geopolitics to adversely impact economics. To that end, Beijing had decided to send a high-level official team led by Commerce Minister Zhong Shan to India at the end of December this year to address the issue of the ballooning trade deficit.
There may be no clear winner here, but Doklam stands as a fine example of how to balance decisiveness with diplomacy, which brings a crucial advantage to India. South Asia has been a keen observer of how Doklam unfolded, and in its aftermath, strategic perceptions of New Delhi can only improve. This is the second time that India has stood its ground, in the face of a bigger, far more powerful neighbor. Despite the vagueness of the Chinese response, India has got what it wanted – the restoration of the pre-June 18 status quo on the ground. In return, China has realized that India is equally willing to risk a conflict in the name of protecting territorial sovereignty.
South Asian countries – from Vietnam to Japan, from Singapore  to Malaysia and from Nepal to Bhutan – would have received a clear message as well. Here is a rising power that is learning the perfect combination of a firm military response on the ground, a restrained public discourse, and the art of timing in back-channel diplomatic communications. These are handy attributes in any ally, and if India can back this up with suitable geopolitical and economic actions, it has a good chance of breaking new ground in strategic ties with South Asia.
Narayani Basu is an author and independent journalist with a special interest in Chinese foreign policy and resource diplomacy in Africa and Antarctica.