India Kicks Off Production of Light Combat Helicopter
Hindustan Aeronautics Limited has commenced production of the Light Combat Helicopter.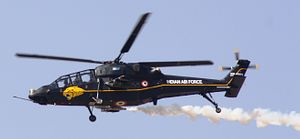 Indian Defense Minister Arun Jaitley has officially launched full-scale production of the indigenously designed Light Combat Helicopter (LCH) at the Hindustan Aeronautics Limited (HAL) production facility in Bengaluru on August 26, according to Indian media reports.
"In the present geopolitical situation, India is located sensitively. We have had multiple threats in the past," the defense minister said in his prepared remarks. "Therefore, preparedness is something India can never compromise on." Furthermore, he stated that "no country can win battles by being dependent on other countries and being a buyer of defense equipment."
In November 2016, the Indian Ministry of Defense (MoD) cleared the purchase of 16 LCHs for the Indian Air Force (IAF) and the Indian Army Air Corps (AAC) as part of a limited series production order. So far the AAC has ordered 114 and the IAF 65 helicopters. Initial operating capability is expected by 2018.
LCH prototypes have been undergoing extensive testing including high-altitude and weapons systems trials in 2016 and 2017. The LCH, which first took to the air in May 2010, has been developed to close a capability gap that became apparent during the 1999 Kargil War when the Indian military lacked attack helicopters capable of operating at high altitudes.
"Consequently, the LCH, a derivative of the HAL Dhruv helicopter, has been primarily designed for high-altitude warfare – HAL and French engine-maker, Turbomeca jointly designed a special engine optimized for extreme altitudes – and has an operational ceiling limit of 6,000–6,500 meters (19,700–21,300 feet)," I explained previously. The helicopter features a two-crew cockpit.
The LCHs armament includes a 20 millimeter French Giat-Nexter turret gun, four Belgium-made 70 mm anti-tank guided missiles (or, once operational, the Indian Helina anti-tank guided missile, and MBDA Mistral-2 air-to-air missiles. As of now, the Indian military lacks an anti-tank guided missile to arm the LCH with.
The helicopter's advanced electronic warfare suite is supplied by SAAB South Africa, whereas the LCHs modern sensor suite has been developed in cooperation with the Israeli' defense industry. The gunship also features a data-link for network-centric operations.
As I noted previously, "the twin-engine 5.8-ton LCH is a multipurpose weapons platform and can be used against enemy tanks, armored personnel carriers, slow-moving aircraft, surface warships and even submarines. The LCH can also be deployed in search and rescue missions and battlefield surveillance."
HAL is also expecting  to score export orders for India's latest helicopter gunship (at around $18-20 million, the per-unit price is about 70 percent of the latest AH-64 Apache variant).
"We are now evolving into a major manufacturing hub not only for our own requirements but also for supplying to other countries in the world," the Indian defense minister said on August 26. "It is now clear that we are systematically moving in a direction to evolve and develop ourselves as a major manufacturer, not only for our requirement but to supply to the other countries."