India Should Reach Out to the People of Gilgit-Baltistan
Last year, Modi remarked that the people of Gilgit had thanked him. Now it's time to reach out to them.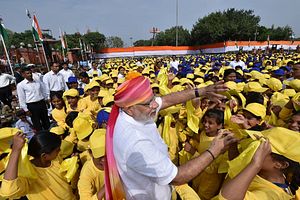 On August 8 an activist from Gilgit-Baltistan, Hasnain Ramal, was arrested under the anti-terrorism act. He had been raising his voice against Pakistan, agitating for the state to grant political and economic rights to the people of Gilgit-Baltistan as per the United Nations Commission for India and Pakistan (UNCIP) resolutions on Kashmir.
Ramal's arrest is part of a strong crackdown Pakistan is systematically carrying out on Gilgit-Baltistan's peaceful activists. Besides Ramal, activists including Baba Jan, Iftikhar, Dee Jay Mathal, Qayum Balawar, Safdar Ali, Mehbob Advocate, Sannaullah, Quwat Khan, Inayat Karim and Majidullah have been put behind bars.
Last year, authorities picked up several activists, accusing them of working for Indian intelligence to destabilize the China-Pakistan Economic Corridor (CPEC). The Pakistani Army paints India as detrimental to the CPEC, which was announced in 2015. Earlier this year, the government said it had deployed 15,000 troops, part of the Special Security Division (SSD) which is headquartered in Gilgit-Baltistan, to protect CPEC projects.
Indian Prime Minister Narendra Modi's mention of supporting voices from Balochistan and Gilgit during his 2016 Independence Day speech was seen as a strong signal of his deliberate shifting of Indian foreign policy.
"The people of Balochistan, the people of Gilgit, the people of Pakistan-occupied Kashmir have thanked me in such a manner, from places that I have never been and never had a chance to meet, they have sent wishes to the people of India and thanked us," Modi said last year, "I am grateful to them."
Following Modi's lead, news debates and public discussions have taken up issues of foreign policy with more nuance. They have gone beyond discussing Pakistan as a monolithic entity, and one can see discussions on Pakistan's internal dynamics finding a larger receptive audience.
This achievement notwithstanding, the next challenge for New Delhi is to infuse action into the vision Modi articulated in revamping Indian foreign policy. This is not to say that India must carry out a tit-for-tat strategy of exploiting Pakistan's political fault lines, but instead invest more heavily in leveraging its soft power.
For instance, despite destabilized diplomatic relations and rising proxy-warfare in the Kashmir valley, some of the foreign office's policies have indeed resulted in diplomatic achievements vis-a-vis Pakistan. Specifically, External Affairs Minister Sushma Swaraj's Twitter diplomacy is already reaping dividends internationally and Pakistan too has not been left behind. The flurry of medical visa clearances the foreign office announces via Twitter from time to time comes as a huge relief to Pakistani patients who are in dire need of treatment. Last month, when the case of an ailing resident from Rawalkot (part of what India terms as Pakistan occupied Kashmir) — diagnosed with a tumor wished to travel to New Delhi for treatment — surfaced, Swaraj immediately took to Twitter announcing immediate help.
However, India's stance on certain key issues is still awaited, which, in the meantime has given rise to a perception that India is yet to formulate a coherent policy on Pakistan. Despite a year having passed since Modi mentioned people in Pakistan communicating their grievances, the Indian foreign policy still has yet to make much progress in reaching out to them.
In Gilgit-Baltistan, Modi's speech last year generated mixed reactions among political activists. Despite some welcoming Modi's attention, there was an ambiguity regarding whether India was prepared to play an active role or whether India's outreach would remain mere rhetoric. India is still expected to play a positive role in the resolution of the Gilgit-Baltistan issue but hope seems to be waning as activists feel that no support will be forthcoming from New Delhi.
An indigenous political culture is conspicuously absent from Gilgit-Baltistan partly due to strong control from Islamabad. As a result,parties like PML-N, PPP and PTI vie for influence, with the present legislative assembly being headed by former Prime Minister Nawaz Sharif's PML-N. Expression of grievances via local newspapers and local parties like Balawaristan National Front, Karakorum National Movement, Gilgit Baltistan United Movement have been stifled, allowing other parties to control the electoral scenario.
New Delhi needs to explore mechanisms to communicate its support to Gilgit-Baltistan's people and its exiled leaders. In this era of digital diplomacy, where even social media has the power to influence trends across borders, it is high time that India's diplomatic channels reach out to the voices of Gilgit Baltistan. Hasnain Ramal's case is a wake-up call for New Delhi if it wishes to pursue the case of Gilgit-Baltistan seriously.
Prateek Joshi is a researcher specializing on South Asia's strategic affairs.