US-India: Shared Values and Shared Interests
To achieve shared interests, India must uphold shared values.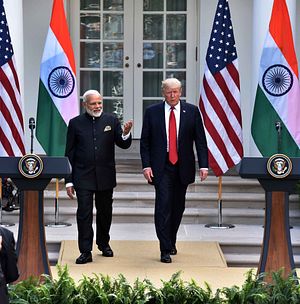 Over the past 20 years, the United States has pursued India as a central partner in efforts to counter China's rise. As part of its Indo-Pacific strategy, Washington seeks to bring together countries with shared values "to reinforce those values in the global architecture." As the world's two largest democracies, a partnership between the United States and India appears only natural. However, recent actions undermining India's commitment to these values raise questions over just how durable the relationship and the strategy that underpins it may be.
In recent months, India has taken multiple actions antithetical to the shared values that bind its relationships to the West. In August, New Delhi revoked the autonomous status of Kashmir, India's only Muslim-majority state, and instituted an unprecedented shutdown, termed a "form of collective punishment" by UN human rights experts. Separate legislative changes fast tracking citizenship for regional immigrants specifically excluded Muslims and introduced religion as a criterion for citizenship for the first time, undermining India's secular foundations. Critics argue these developments are part of a larger Hindu-nationalist agenda to reconfigure India as a Hindu homeland and "effectively reduce Muslims in India to second-class citizens." Statements by Amit Shah, India's home minister, referring to primarily Muslim migrants from Bangladesh as "termites" only exacerbate fears about the future of pluralism and democracy in India.
While these concerns have been acknowledged in Washington, the administration has stopped short of taking a firm stance. As a cornerstone of U.S. strategy in the Indo-Pacific, the United States looks to India as an essential partner in countering China's rise, this administration's top national security priority. Seeking to maintain a friendly relationship with New Delhi, Washington has stayed quiet on the mounting evidence of India's turn away from the shared values that supposedly underpin their relationship.
There is an uncomfortable truth in Washington's silence: It is not shared values, but shared interests that increasingly shape Washington's foreign policy outlook. 
While there are voices in Washington that view values as essential, the Trump administration has taken a pragmatic approach, prioritizing strategic and economic benefits over democratic divergences. As the world's largest democracy and fifth largest economy, India's potential to challenge China's influence in Asia is vast. Over the past 20 years, the United States has invested heavily in India — militarily, economically, and diplomatically — to build its strength as a counterweight. 
However, Washington's interests-based approach ignores an important reality. India's breakdown in values has weakened it internally. New Delhi's pursuit of a divisive agenda under the current right-wing BJP government has deepened social fissures, undermining national unity and stability. Hundreds of thousands of people have taken to the streets to protest. Political unrest has been met with excessive force by police, as protests turn violent. If mounting instability continues, India will not be able to remain the strong partner Washington envisions, compromising its ability to effectively counter emerging superpowers like China.
Instability also impacts the economy. Unstable political environments create uncertainty, often slowing economic growth and investment. India's economic growth rate is already the slowest it's been in six years, dropping from 8.1 percent in the first quarter of 2018 to an estimated 5 percent by the end of this fiscal year. Instead of rising as a global power to counter China, India may be headed toward instability and stagnation. 
If it continues on its current trajectory, India's ability to actualize its potential as a counterweight will be limited. With increasing economic, social and political instability, India's attention will be consumed by internal dynamics, leaving less space for cooperation on the strategic interests Washington cares most about. With deep social fissures and a plummeting economy, India will lack the strength required to achieve the shared interests underpinning Washington's current policy approach.
While the United States has shied away from pressuring New Delhi for fear of disrupting shared interests, India will only be able to cooperate on interests if it upholds values. It is in both Washington's and New Delhi's best interest to restore democratic practices and stability so that shared interests can be pursued.  
Washington must take a firm stance. The United States should urge New Delhi to clampdown on its strengthening Hindu nationalist narrative. New Delhi must engage with local political leaders immediately to restore democratic order in Kashmir, and revisit and revise its methodology for citizenship laws. If the citizenship law changes are not intentionally discriminatory, as the government claims, a thorough review in partnership with the human rights organizations that have critiqued the law should be prioritized and any plan for expansion halted. While policies more in line with the values that underpin the U.S.-India relationship will aid stability, New Delhi must also institute economic reforms to restore growth. 
The United States has immense power to influence New Delhi's current trajectory. Private diplomacy is likely already taking place. Washington's public rhetoric must take a stronger tone, limiting New Delhi's ability to slide by. The administration could apply sanctions as has been the case with various other countries that challenge U.S. values. Further, India aims to purchase an S-400 missile defense system from Russia, risking significant sanctions from the United States under the Countering America's Adversaries Through Sanctions Act (CAATSA). While President Trump has chosen not to sanction Turkey in a similar procurement deal, the United States can leverage the decision to pressure India to align with the values underpinning their strategic relationship.
While Washington's interests-based approach may appear pragmatic, it is bound to fail should India continue to break from its democratic pluralistic foundations and fuel further domestic instability. In reality, there is a strong and pragmatic argument favoring a values-based order that not only brings the United States and India closer to their strategic goals but aligns with the rhetoric that has shaped the relationship for the past 20 years. 
Washington must speak up. If it continues to look the other way as India continues down this trajectory, the counterweight will disappear and so too will Washington's strategy for the Indo-Pacific. 
Emily Ashbridge is a Washington, DC-based researcher on South Asian affairs.