Strife in South Korea Over Politics in Public Broadcasting
Accusations of political bias run rampant, with two broadcasting unions going on strike.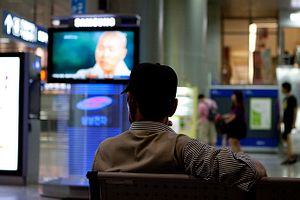 The historic movement that lit up the streets of South Korea's Gwanghwamun with candlelight began in 2016, ultimately resulting in the impeachment of former South Korean President Park Geun-hye, seems to have continued on. This time, it targets other spheres of discontent — the public broadcasting companies.
The labor unions at the two largest public broadcasting services in Korea, the Munhwa Broadcasting Company (MBC) and Korean Broadcasting Service (KBS), went on a strike as of midnight on September 4, calling for the CEOs at the two companies to step down from office.
KBS CEO Ko Dae-young and MBC CEO Kim Jang-kyum have been accused of applying pressure to send out biased information in support of conservative sentiments in South Korea. The labor unions of the two companies have proclaimed that the purpose of the strike is to have the CEOs resign and restore the "political independence of the media."
The conflict surrounding the two public broadcasting companies has almost always been an issue, particularly at the start of each new government administration. In most cases, the problem tended to focus on CEOs who have allegedly been designated by the government, the so-called "parachute assignment." The controversy deepened when the CEOs appeared to prefer certain political views, which provoked political opponents as well as the public.
MBC and KBS labor unions have accused Ko and Kim of being involved in the execution of the "culture and arts blacklist" allegedly produced by the former Lee Myung-Bak administration. The blacklist has been reportedly designed to rule out certain celebrities or journalists from participating in media activities. It includes the names of stars, journalists, and announcers from various media fields including news, radio, variety shows, and drama who are known to have progressive political views. Famous figures such as comedian Kim Jae-dong and rock singer Yoon Do-hyun were said to have been included in the list.
The two CEOs were also asked to take responsibility for various cases of interfering with the production and broadcasting of certain television programs. They intended to prevent the release of sensitive information critical to the government. Kim Eo-jun, a well-known political critic with progressive views, has been asked by several MBC executives to "apologize" after criticizing former KBS CEO Kim In-kyu and former MBC CEO Kim Jae-chul at a PD gathering event. Kim responded: "I did not make these comments at an official MBC program. The comments I made were my own political orientation as a natural person. If that goes against MBC's internal rules, then fire me. I will not apologize." He stepped down from his show shortly after.
Both former CEOs are known to have strong connections to former president Lee Myung-Bak, similar to the current CEOs.
Rising criticism against the CEOs of MBC and KBS has led to strong reactions from the political sphere. Shortly before the strike began, the Liberty Korea Party, the largest conservative party in South Korea, boycotted the National Assembly to protest against the issuance of an arrest warrant for MBC CEO Kim. The party has scolded the Moon Jae-in administration to "stop taking over the media," and described their boycott as a "fight to protect free democracy."
On the other hand, the Minjoo Party of Korea, the ruling progressive party, has called for an investigation into the allegations of media censorship led by the former Lee Myung-bak and Park Geun-hye administrations, focusing on the parachute assignment of CEOs and the culture and arts blacklist. The party stated: "the investigation is necessary to ensure freedom of speech and public interest of the media, and to design measures to return public broadcasting to the arms of the citizens."
Choi Jin-bong, a professor at Sungkonghoe University, stated that public broadcasting's leadership structure was an obstruction to progress, because every new administration could "suddenly change its previous approach and try to designate a CEO that it prefers. Only by setting up proper measures to have a politically impartial figure to take the role of a CEO can we put a stop to the overhaul of public broadcasting companies every time a new government kicks in."