Trump Administration Introduces New Executive Order on North Korea Sanctions
The new sanctions expand the authority of the U.S. Treasury Department to implement secondary sanctions.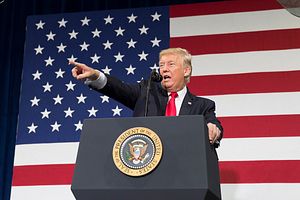 On Thursday, U.S. President Donald J. Trump announced a new presidential executive order empowering the U.S. Department of the Treasury to impose additional sanctions on individuals and entities who do business with North Korea.
The moves comes after two North Korean ballistic missile tests overflying Japan on August 29 and September 15, a claimed North Korean thermonuclear bomb test on September 3, and two new rounds of United Nations Security Council resolutions against North Korea.
The new executive order comes just days after Trump condemned North Korea before the UN General Assembly. He called Kim Jong-un's regime "depraved," and noted that it was "an outrage that some nations would not only trade with such a regime, but would arm, supply, and financially support a country that imperils the world with nuclear conflict."
On Thursday, U.S. Treasury Secretary Steve Mnuchin said that the new executive order "will authorize Treasury to impose a range of sanctions, such as suspending U.S. correspondent account access to any foreign bank that knowingly conducts or facilitates significant transactions tied to trade with North Korea or certain designated persons."
"These sanctions will be forward looking, and applied to behavior that occurs following the date of the Executive Order," he added at a press conference. "Foreign financial institutions are now on notice that, going forward, they can choose to do business with the United States or with North Korea, but not both."
The executive order announced Thursday, formally titled "Imposing Additional Sanctions With Respect to North Korea," contains a number of provisions, including the basis for wide-ranging secondary sanctions.
According to a fact sheet released by the White House, the order "directly targets North Korea's shipping and trade networks." It purports to do this by banning vessels and aircraft that have delivered cargo to North Korea from accessing the United States for 180 days.
The new sanctions also empower the U.S. Treasury Department to sanction any financial institution anywhere in the world from doing business in the United States if it facilitates or transacts on behalf of designated North Korean individuals and entities.
Moreover, Trump, at a press conference alongside Japanese Prime Minister Shinzo Abe and South Korean President Moon Jae-in, announced that the People's Bank of China — China's central bank — had directed all China-based financial institutions to implement existing UN Security Council sanctions against North Korea.
Recent UN Security Council sanctions have expanded bans on North Korea's export of various commodities, including lead, lead ore, iron, iron ore, sea food, and textiles. The latest round of sanctions even imposed a cap on North Korea's imports of oil.