What's in the New Russia-Thailand Military Pact?
A new defense pact inked by the two sides deserves attention despite the few details that have emerged publicly so far.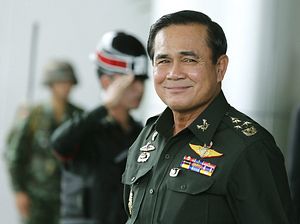 Last week, reports surfaced that Russia and Thailand had inked an agreement to boost military technology cooperation between them. Though no further details have been disclosed about the pact thus far, it nonetheless signifies the ongoing effort by both sides to further their defense ties.
As I have noted previously, though Thai-Russian defense collaboration is hardly new, cooperation between Moscow and Bangkok has been on the uptick in recent years (See: "What's Next for Russia-Thailand Military Ties"). Thailand has been looking to boost relations with several other nations, including China and Russia, following a coup in May 2014, which initially complicated its ties with the United States and other Western nations (See: "Exclusive: Managing the Strained US-Thailand Alliance"). Meanwhile, Russia under Vladimir Putin – ambitious abroad and increasingly isolated from the West — has been looking to boost its presence in the Asia-Pacific, including in Southeast Asia.
Though the rhetoric at times far surpasses reality, we have seen a few notable developments in the defense realm. For instance, when Thai Prime Minister Prayut Chan-o-cha made a trip to Russia in May 2016 – the first formal visit by a Thai premier in more than a decade – came amid reports that Thailand planned on buying Russian helicopters and tanks, and an agreement on military cooperation was one of six pacts inked by the two sides during his trip (See: "Thailand Mulls Buying New Military Helicopters from Russia").
Thai Deputy Prime Minister and Defense Minister Prawit Wongsuwan also visited Russia twice last year, and Russian Ground Forces Commander-in-Chief Colonel General Oleg Salyukov visited Thailand in March 2017 in a rare visit by a high-ranking Russian military official.
On September 14, TASS, the Russian news agency, quoted a source in the Russian embassy in Bangkok as saying that Russia and Thailand had signed "an intergovernmental agreement on military cooperation." The document, TASS said, was signed by Deputy Director of Russia's Federal Service for Military Cooperation Mikhail Petukhov and Director of the Joint Logistics of the Royal Thai Armed Forces Headquarters Vice Admiral Tiwa Daramuang.
TASS said the embassy source "did not provide any details on the agreement," and subsequent reports did not publicly disclose any further specifics either from either the Russian or Thai sides officially. That makes it difficult to evaluate the significance of the pact relative to previous agreements reached, especially within the context of a relationship where, as mentioned earlier, rhetoric can sharply diverge from reality at times.