China Backs Egypt's UNESCO Leadership Bid While the US Withdraws Completely
Beijing has made a smart move, dropping its UNESCO leadership bid to back Egypt at a "critical juncture."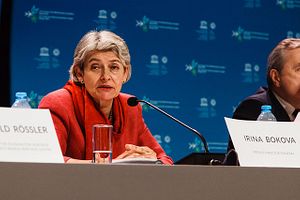 On October 12, the United States announced its plan to formally withdraw from UNESCO — the United Nations cultural, scientific, and educational organization — by the end of 2018. Also on October 12, China told Egypt that it will withdraw its candidate for the UNESCO director-general position and endorse Egypt's candidate. The move has won Egypt's gratitude and appreciation.
In a statement, the U.S. Department of State said it has notified UNESCO of the U.S. decision to withdraw and to seek to establish a permanent observer mission, so as to save money and to protest against "continuing anti-Israel bias at UNESCO." Despite the withdrawal, the U.S. still hopes to remain engaged with UNESCO as a non-member observer state "in order to contribute U.S. views, perspectives and expertise on some of the important issues undertaken by the organization."
"This decision was not taken lightly," the statement added.

The U.S. ceased funding UNESCO in 2011 after the organization voted to accept Palestine as a full member (107 countries voted in favor, 14 against). U.S. law prohibits funding of any UN body which accepts Palestine as a full member. Nonetheless, the U.S. maintained an official mission to the Paris-based body.
After receiving U.S. notification, UNESCO Director-General Irina Bokova expressed "profound regret" in a nine-minute video announcement and called on the "American people" to keep promoting the cause of UNESCO.

According to Foreign Policy, France's U.N. ambassador, François Delattre, hoped the U.S. would stay within UNESCO. "For us, it is important to have the United States on board, including at UNESCO at this critical juncture," he said, "We consider the U.S. must stay committed to world affairs."
The critical juncture François Delattre referred to may be the selection of UNESCO's new director-general.
While the world's attention was centered around the U.S. withdrawal, China made an unexpected move at this "critical juncture" as well: ahead of the fourth round of voting, China announced it would withdraw its candidate UNESCO director-general and throw its support behind Egypt's candidate, Moushira Khattab. On Twitter, Egyptian Foreign Ministry Spokesperson Ahmed Abu Zeid announced the Chinese decision and referred to China as a "long-standing and true friend" of Egypt. The Chinese foreign ministry has kept silent on the issue domestically so far.
In the third round of voting, the Chinese candidate, Qian Tang, acquired five votes from Pakistan, Bangladesh, Nepal, Russia, and China itself; Egypt's Khattab acquired 13 votes, and Qatar's Hamad bin Abdulaziz Al-Kawari and France's Audrey Azoulay both received 18 votes each. China's withdrawal means that Khattab has the chance to receive at least 18 votes in the next round, assuming those who voted for China also transfer their votes to Egypt.
The news of China's withdrawal has been widely reported in Egypt. According to Egypt Today, Egypt's Ministry of Foreign Affairs issued a statement to express gratitude and appreciation for China. The statement affirmed that China's decision reflects the strength and depth of strategic relations between the two countries.

"Egypt praises this wise decision, which would only come from an ancient state with an extended historical and cultural heritage such as China," the statement said.
As China's candidate looked likely to lose anyway, the decision to withdraw and support Cairo is an easy but very beneficial move for Beijing. It not only wins Egypt's praise, but will surely cast China in a favorable light among Arab states in UNESCO at the same time the U.S. withdrawal, tied to its support of Israel, will add to tension between the U.S. and the Arab states of the Middle East.
Since joining UNESCO 30 years ago, China has actively sought UNESCO's recognition for various natural and cultural sites. China now has 52 properties inscribed on UNESCO's World Heritage List.