Server Shenanigans: Local Media Reports Kyrgyz Campaign Used Government Server
An explosive investigation by Kloop points to possible collaboration between Jeenbekov's campaign and the government.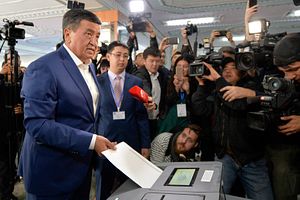 In a damning investigative report released Thursday, the Kyrgyz media outlet Kloop reports that a website containing spreadsheets of voter information was hosted on a government server. Kloop and a Swedish non-profit media foundation specializing on digital security, Qurium, conducted an in-depth investigation of the samara.kg website after an activist under the moniker suppermario12 hacked the site and posted a video purporting to expose a voter management system used by the campaign of Sooronbai Jeenbekov to track and influence voters.
Jeenbekov, from the same party as current President Almazbek Atambayev, won the October 15 presidential election with 54 percent of the vote, just enough to avoid a second-round run-off with second-place finisher Omurbek Babanov.
In the video, suppermario12 claims that the samara.kg website was "used to track voters' intentions, and influencing [sic] their decisions by means of bribes and threats." Kloop reports that several "agitators" from the Sooronbai Jeenbekov campaign confirmed their usage of the website.
I won't rehash all the details — Kloop's report is available in Russian, Eurasianet has a good rundown in English, and Qurium's more technical report is also available in English — but I do want to pick out some of the key questions that the allegations in the Kloop report call up: possible inappropriate collaboration between the government and a candidate (the oft-cited usage of "administrative resources"); the allegation of voter intimidation or bribery; and the misuse of Kyrgyz citizens' private data.
There is a line between what constitutes normal (if uncomfortable) electioneering practices — such as gathering information about potential voters in order to target a campaign's activities — and collusion between the state and a specific candidate.
For example, in the United States campaigns collect and buy what are known as "voter files," which contain information about voters: name, age, address, phone number, email address as well as party registration, previous donations, voting history, and more. Some of this is less nefarious than it sounds: if you register with a party, that party knows you're a member. Campaigns in the United States use such data to target their efforts where they are more likely to see success. This is why registered Democrats get phone calls from the local Democratic campaign asking if they plan to get out and vote rather than get rung up by the local Republican campaign, and how both major parties decide which neighborhoods are a better use of time to go door-to-door in.
The possibility that private data regarding Kyrgyz voters was compromised is sure to recall concerns voiced by some back in 2015 when Kyrgyzstan began implementing a biometric voting registration system. The hosting of the samara.kg website on a server owned by the same department that collects voter information is a rather damning situation.
It's one problem if Jeenbekov got privileged access to voter information unavailable to his competitors. It is an additional, and different, matter if that information was used to intimidate voters.
A key accusation lobbied by suppermario12 (whose identity remains unknown), is that the voter registration system hosted at samara.kg was intended to be used to intimidate voters. "By being able to check this system, they will know for whom they voted on October 15 and in case of not voting for the pro-government candidate they will be threaten to be fired from work or expelled from the school," the activist stated in the video referenced above (translation from Qurium.) If evidence emerges that supports this accusation — that individuals were intimidated before voting or because of how they voted — that's the most explosive part of this tangled story.
All democracies wrestle with the role that money, access, and the advantages of incumbency (of a party if not an individual) play in elections, Kyrgyzstan is no different in this regard.
One thing is certain: the allegations made in the Kloop report are serious enough to merit a full investigation. Importantly, such an investigation would need to be conducted by an impartial, outside, respected body. Some questions must to be answered: How and why did Jeenbekov's voter files come to be hosted on a government server and how was that information used by either Jeenbekov's campaign or the government?