The Chinese Communist Party: Candid and Transparent?
The CCP is surprisingly candid about its goals, intentions, and activities in Chinese language publications.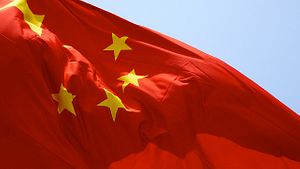 As the upcoming Chinese Communist Party (CCP) 19th Party Congress brings new changes to China's elite politics and national development, foreign observers will be searching for authoritative Chinese publications to follow new trends. Just as state media outlets sponsored special webpages to report on the 17th and 18th Party Congress, we can expect the same for the 19th.
Notwithstanding, it is conventional wisdom among the China-watching community that the CCP is a highly secretive group that rarely publicizes its daily activities or true intentions for outsiders to see. To be sure, the CCP remains an enigmatic body that carefully crafts its desired image for the world to take at face value. This is done through the regular work of Chinese diplomacy, state-owned English language newspapers such as China Daily and the Global Times, select translations of authoritative commentaries, and the works of ostensibly academic organizations such as Confucius Institutes, which promote traditional Chinese culture but also seek to control class curriculums and conference programs to tow the party line abroad.
Yet it is the author's experience that this truth belies the verity of another: the CCP is surprisingly candid about its goals, intentions, and activities in Chinese language publications that mainly target the party's own sprawling bureaucracy. It is also true that regime propagandists increasingly seek to address rather than censor "hot topic" events that may taint the party's image with "the masses." This decision to quickly seize the media's agenda is informed by lessons learned following public health emergencies such as the outbreak of severe acute respiratory syndrome (SARS), natural disasters, and other serious crises; through these events, Chinese citizens learned to ignore party propaganda and instead turned to more credible and increasingly available commercial reporting. In response, party outlets now rapidly push out opinion pieces addressing sensitive topics ranging from high-level official corruption charges to foreign policy failures. China analysts need only look to available online sources for timely insights into China's most important affairs.
On the propaganda front, core publications such as People's Daily and Qiushi Journal are published openly on the Internet for anyone proficient in Chinese to read. Both offer the authoritative views and latest theoretical updates of the CCP Central Committee, which is comprised of China's most powerful leaders. The Beijing Party Committee and every other provincial-level committee runs their own daily paper that is available online, offering authoritative positions on local affairs. Furthermore, because a main propaganda task is to transmit the directives of the CCP Central Committee's all-powerful Politburo, it should come as no surprise that the daily activities of Xi Jinping, Li Keqiang, and all other members are carefully recorded for all to read.
The CCP Central Committee's subordinate departments also maintain regularly updated websites that discuss their activities. The United Front Work Department, which is charged with uniting non-communist sectors of society under party leadership to advance party goals, runs an informative website with sections neatly divided into targeted groups such as ethnic minorities, China's minority political parties, the "non-public" sector, and the "new social class" of politically-unreliable professionals that work in organizations such as foreign firms and social organizations. The International Department also maintains a robust website that highlights the CCP's liaison meetings with hundreds of political parties across the world. Party liaison work is one of the most under analyzed aspects of CCP power; the party views it as an effective means for cultivating foreigners that "know China and are friendly to China" and for laying the groundwork to overcome troubled (or non-existent) state-to-state relations. The Organization Department, which is in charge of managing the appointments to several thousand top posts in the CCP-regime, runs several outlets that propagate directives to cadres, explain policies, and report statistical information on the CCP. Most other major party organs, such as the Central Commission for Discipline Inspection (CCDI), similarly run websites that describe their activities, which reveals the party's immediate priorities as well as issues of long term concern.
The above mentioned resources barely scratch the surface. In sum, while monitoring China's diplomatic statements and official English language publications is an effective starting point for assessments, a more systematic analysis of all openly available authoritative publications can help foreign analysts achieve a more comprehensive understanding of the CCP regime, thereby enabling a more informed policy debate.
David Gitter is the director of the Party Watch Initiative, a program of the Project 2049 Institute that analyzes the writings and activities of the Chinese Communist Party (CCP).