Tillerson Discusses Security and Strategy in Afghanistan on Short Stopover
The U.S. secretary of state stopped in for an unannounced visit.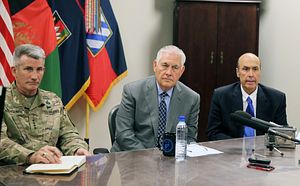 On Monday, U.S. Secretary of State Rex Tillerson made an unannounced stop in Afghanistan during his ongoing trip to the Middle East and South Asia. Amid a tight security setup, Tillerson met Afghan President Ashraf Ghani, Chief Executive Abdullah Abdullah, and other senior Afghan officials. His meetings took place at Bagram Air Base and he remained in the country for just hours before departing.
Tillerson's visit to Afghanistan is his first in his role as secretary of state and comes nearly two months after the Trump administration articulated its strategic approach to Afghanistan, where more than 8,000 U.S. troops remain. At Bagram, Tillerson emphasized that he would carry concerns about Afghanistan to Pakistan, another stop on his multi-nation tour, which will also include a stop in India.
"We have made some very specific requests of Pakistan in order for them to take action to undermine the support the Taliban receives and other terrorist organizations receive," Tillerson said. "We've said in this whole strategy this is a conditions-based approach, and so our relationship with Pakistan will also be conditions-based," he continued.
Tillerson underlined that he felt that Pakistan needed to "take a clear-eyed view the situation that they're confronted with in terms of the number of terrorist organizations that find safe haven inside of Pakistan."
Tillerson and Ghani discussed a range of other issues, including Afghanistan's anti-corruption strategy, preparations for the country's parliamentary elections next year, and regional developments.
In response to a question from a reporter on when the U.S. military presence in Afghanistan might be fully withdrawn, Tillerson underlined that the United States would be in Afghanistan "until we can secure a process of reconciliation and peace," adding that it wasn't an "unlimited" commitment. "Clearly, we have to continue the fight against the Taliban and against others in order for them to understand they will never win a military victory," he added.
Referencing his speech last week on U.S. India policy, Tillerson emphasized that he believed "that India has a very important positive role that India can play in the process to achieve a peaceful, stable Afghanistan." Tillerson is expected to arrive in New Delhi on Tuesday.