What a 25-Fold Increase in Turkmen Water Prices Will Mean
Ashgabat is ditching water subsidies, with the savings to be directed into the country's energy sector.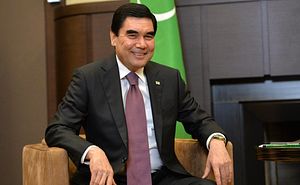 Plans for Ashgabat to roll back significant subsidies on basic services — water, gas, and electricity — which had made them virtually free to Turkmen citizens have been floating in the ether of policymaking in Turkmenistan for at least two years. The set-up to shift away from subsidies began earlier, when President Gurbanguly Berdimuhamedov put caps on how much free gas, water and electricity citizens could draw before paying.
As Reuters reported last week, starting November 1 the price of tap water beyond the standard free allotment of 7.5 cubic meters per person will rise from 0.2 manat ( $0.06)  to 5.0 manat (about $1.43) per 10 cubic meters. The increase is massive in relative terms, as Reuters wrote, "Householders in Turkmenistan will pay 25 times more for tap water."
7.5 cubic meters of water is more than 1,980 gallons. I have not been able to find data on individual water usage in Turkmenistan, so it is difficult to measure how impactful this specific change will be. But to put the amount in perspective: the average American uses 80 to 100 gallons of water per day, so 2,400 to 3,000 gallons per month. European water usage is lower than in the United States, and varies widely from state to state. I'd suspect that Turkmen usage may be higher given the climate and lower utilization of higher efficiency water-using household items like dishwashers and washing machines.
Nearly 80 percent of Turkmenistan lays across the Karakum desert, often described as one of the driest places on earth. At the same time, like neighboring Uzbekistan, Turkmenistan developed a cotton industry under Soviet hands. The cotton industry in Turkmenistan takes a distant second to gas and other mineral products in the state's economy but still sucks up a significant amount of water.
Eurasianet reported on October 10 that Berdimuhamedov said the "social benefits" program had done its job and "a new scale of tariffs will usher in a more cautious and rational use of resources, the prevention of excess spending and the preservation of the country's natural wealth."
In a 2012 article on water usage in Europe, Asit Biswas and Julian Kirchherr wrote that "Pricing is the single most powerful policy tool to alter water consumption patterns and users' behavior."
According to Reuters, the savings from dialing back subsidies will "help finance a $69 billion, seven-year investment programme of which $45 billion is destined for the energy sector."
Analysts have read Berdimuhamedov's push to roll back subsidies in light of the country's difficult economic position. The subsidies need to be cut because Ashgabat needs the cash.
After a steady upswing, Turkmenistan's GNI per capita dropped sharply after 2014. Meanwhile, the country's GDP growth has slowed from 10.3 percent in 2014 to 6.2 percent in 2016, according to the World Bank.
When global energy prices dropped in 2014 so did Turkmenistan's export revenues. Then Turkmenistan lost its former major gas customer, Russia, completely in 2016 after years of decline. China was already on the rise and now is Turkmenistan's only major gas customer. How much Turkmenistan makes from its gas trade with China is a closely guarded secret, but analysts suspect not much reaches Turkmenistan's accounts given that Chinese loans financed the pipelines through with Turkmenistan's "natural wealth" flows east.
Efforts to diversify have not yet yielded much success to date. The Turkmenistan-Afghanistan-Pakistan-India (TAPI) pipeline is reportedly set to reach the Afghan border in January, at which time Afghan authorities, according to Afghan Mines Ministry spokesman Abdul Qadeer Mufti will "conduct technical ground and air surveys and more importantly, the route that the pipeline runs through will be cleared of mines."
How long survey work and mine clearing will take is not clear, but the completion date for TAPI has always moved in one direction: further into the future. It's not going to save the Turkmen budget any time soon. At the same time, the tenuous security situation in Afghanistan can play a major spoiler for even the best laid plans (which, frankly, these are not).
Ashgabat is making the gamble that the savings from cut subsidies can prop up the state until the good times return. But Turkmenistan's leaders are taking a risk in removing a major plank in the relationship between the autocratic government and its people.