Where Are Russia-Philippines Defense Ties Under Duterte?
A look at where relations are in the security realm thus far.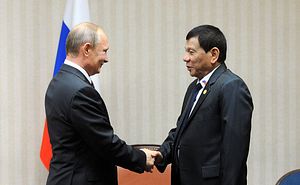 The Philippines has never really been a significant defense partner for Russia in the past, particularly given Manila's traditional, decades-long alliance with the United States. But Russia-Philippine military ties have been in the spotlight over the past year as Philippine President Rodrigo Duterte, a self-avowed socialist, has been looking to diversify his country's ties away from Washington and towards other countries, including Beijing and Moscow.
To be sure, as I have repeatedly pointed out, it is still early days and there are some inherent limits in strengthening ties in this realm relative to others like the economic one (See: "The Limits of Russia-Philippines Military Relations"). That partly accounts for why we have yet to see some of the rhetoric translate into reality, despite some indicators of progress like the conclusion of a military pact between the two sides following Duterte's visit to Russia in June covering areas like official visits and exchanges, military port calls, and the participation of observers in military training exercises (See: "What's in the New Russia-Philippines Military Pact?").
That said, there continue to be some signs of incremental progress nonetheless. For instance, last month, a high-level delegation from the Philippine Army observed a military exercise in Russia for the first time following the inking of the agreement in June. The delegation, headed by Army Chief of Staff Major General Robert Arevalo, observed the final stage of drills between Russia and Belarus codenamed "Zapad 2017" in Luzhsky Testing Rage in Leningrad Oblast.
It is never wise to read too much into a single interaction. And observing an exercise in Russia is very different from both sides holding new drills of their own on a regular basis, which is a level that Moscow in particular would like to get to. Yet the significance of this one is nonetheless worth noting. Philippine Ambassador to Russia Carlos D. Sorreta himself said that the move was just the beginning of what he expected to be "a robust army-to-army engagement in the years to come."
Talks are also still continuing on how to progress on the transfer of military equipment. On September 18, there was another round of discussions between the Philippine Embassy in Moscow and the Russian Federal Service for Military Technical Cooperation (FSMTC) headed by Sorreta as well as the Head of the First Directorate for Military-Technical Cooperation with Foreign States Sergey Bugakov.
As I have noted before, this is another area where advances have been much slower than Duterte's early rhetoric suggested and than Moscow desires. Nonetheless, in this round of talks, Soretta said that both sides discussed concluding the necessary agreements that would form the legal basis for the transfer of such equipment to occur in the first place. They also frankly discussed concerns around such equipment which are not insignificant, including pricing and other factors that go into the Philippine procurement.
Soretta emphasized that the Philippines continued to see the idea of getting Russian military equipment as attractive because of the lack of "political conditionalities," a point that Duterte has also stressed relative to the United States. Yet he as well as other Philippine officials know full well that this has to be balanced with the more pragmatic and technical considerations about what Manila really needs, how much it can afford to pay for it (not just in terms of the equipment itself, but maintenance over time), and how that fits in with its broader military modernization effort to address manifold internal and external threats with a much smaller budget than it would like.