Who is the Philippines' New Army Chief?
A closer look at the appointment and what it means.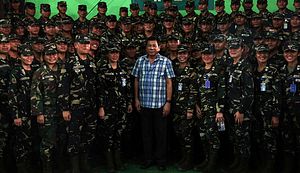 This week, Philippine defense officials confirmed that Major General Rolando Joselito Bautista, the overall commander in Marawi City, would be elevated to become the head of the Philippine Army. The change, which will be confirmed on October 5 during a turnover ceremony attended by President Rodrigo Duterte, is yet another sign of Bautista's quick rise within the Philippine military at a critical juncture in both the country's security as well as Duterte's presidency.
Bautista's rise within the Armed Forces of the Philippines (AFP) has been quite fast over the past two years. Initially the commander of the 104th Brigade based in Basilan, he was asked to head Duterte's Presidential Security Group (PSG) following the president's election victory in May last year. The emergence of Duterte, the first president from the country's south, had raised hopes among some of progress in resolving the country's raging, decades-long communist and Muslim insurgencies (See: "Will the Philippines' Next President Maintain Aquino's Reform Momentum?").
Ten months later, Bautista was given the post of chief of the 1st Infantry Division of the Philippine Army based in Zamboanga. His jurisdiction included Marawi City, where a siege by Islamic State-linked militants in May, as I have noted previously, had raised the terror threat not just in the Philippines, but in Southeast Asia more broadly (See: "Battle for Marawi Exposes Philippines' Military Intelligence Crisis"). The AFP is still trying to take full control of the area in one of the most significant military operations in recent history, after which a massive rehabilitation effort will be required (See: "Why Has the Philippines' Military Struggled in its Terror Fight Against Duterte?").
Seven months after being in his current post – four of which have been taken up by the Marawi Crisis – Bautista will assume the post of chief of the Philippine Army this week. Bautista, a member of the Philippine Military Academy (PMA) Class of 1985, will replace acting chief Lieutenant General Glorioso Miranda, and the change of command ceremony is scheduled for Thursday afternoon Philippine time at the Philippine Army headquarters in Fort Bonifacio.
In a statement, AFP public affairs chief Colonel Edgard Arevalo described Bautista as a quiet, unassuming, and decisive commander. It remains unclear how long Bautista will be in his current position, since he will reach the mandatory retirement age of 56 next October. But with the Islamic State threat remaining high, no end in sight for domestic insurgencies in the Philippines, and questions raised over both the future direction of the country's military modernization as well as civil-military relations under a strongman president, his tenure will no doubt be a busy one (See: "Battle for Marawi Deepens Philippines' Military Budget Challenge").