Get Ready for an Even More Assertive China
China will become a more proactive international player under Xi's leadership.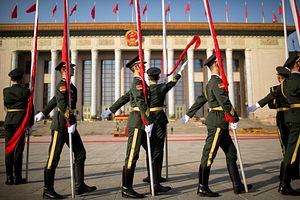 The Chinese Communist Party concluded its 19th National Congress on October 24, and announced its new leadership on Wednesday morning. Unsurprisingly, this new central leadership team is headed by Xi Jinping, who has been China's most powerful politician since the CCP's last National Congress in 2012. After being re-elected as the general secretary of China's only ruling political party and the chair of its Central Military Commission, Xi will lead the 89 million members of the Chinese Communist Party – and the 1.3 billion citizens of the People's Republic of China – for the next five years, and possibly beyond.
Xi's public speeches during and after the Party Congress were not merely a summary of what has been done in the last five years. Instead, through these speeches, Xi not only ambitiously set the tone for the politics of China in the next five years and even beyond, but also confidently declared that China had entered a "new era" under his leadership. One of the major policy shifts that we can expect to see in Xi's China is that the country will become much more outward-looking in international politics, asserting more proactive roles in major global issues that go beyond the immediate relevance to China's national and regional interests.
For decades, China has been intending to become a "quiet achiever" in the arena of global politics. In the late 1980s, Deng Xiaoping instructed Chinese diplomats to keep a low profile, and this strategy is often translated into English as "hide our capabilities and bide our time." Back then, the Chinese leadership believed that their priority was developing China's domestic economy, and they were unwilling to get involved with international politics that had little direct relevance to China.
However, as China's economy grows bigger, China's weight on the international arena has increased extensively. China has demonstrated that it has the capacity to mobilize its military and economic resources to evacuate its nationals from Libya and Yemen, places that are not traditionally considered as within the reach of China's sphere of influence. In the first six months of 2017, over 62 million Chinese citizens traveled to other countries as tourists – to illustrate, this figure is larger than the combined total populations of Australia and Canada. Since 2016, China has also been holding second place in the Elcano Global Presence Index, a widely-accepted measure that ranks 100 countries according to their economic performance, military capacity, and soft power.
With China's influence in the world becoming more obvious, the expectation that China should play a more proactive role in international politics has increased from both within and outside China. The Chinese leadership has also become more confident in their commercial and military capacity over the years.
Since Xi became China's top leader in 2012, as well as becoming more assertive in defending China's key interests in regions surrounding the country, China has also started creating a more comfortable international environment for itself through grand global projects such as the "Belt and Road Initiative," an ambitious plan to link China with Central Asia, the Middle East, Russia, Europe, and Africa through physical infrastructure, financial arrangements, and cultural exchanges.
Judging from Xi's speech at the Party Congress, it is obvious that the current Chinese leadership is very happy with, and confident in, their way of doing things. As stated in his speech at the opening ceremony, Xi believes that China has "blaz[ed] a new trial for other developing countries to achieve modernization. It offers a new option for other countries and nationals who want to speed up their development while preserving their independence."
With such a level of confidence and optimism, under Xi's leadership in the next five years, China will not be shy about – in Xi's own words – offering "Chinese wisdom and a Chinese approach to solving the problems facing mankind." China is likely to achieve this by further pushing its flagship international development project, the Belt and Road Initiative, which many observers believe marks China's push to take a more influential role in international affairs.
China's transition from a "quiet achiever" to an "assertive player" in the global arena is also likely to be reflected by its changing approach in international communication and soft-power construction. In his Party Congress speech, Xi called his comrades to build "stronger confidence" in the Chinese culture. He also said clearly that China will "enhance its cultural soft power" through presenting "a true, multi-dimensional, and panoramic view of China." That is to say, China will not be shy about telling its stories to an international audience, and it is determined to tell these stories in effective ways.
Xi made it clear that China will prompt "the building a community with a shared future to mankind," also known as a "community of common destiny." This new strategy for China's foreign policies aims at pursuing "open, innovative, and inclusive development that benefits everyone." Of course, this does not mean the Chinese Communist Party will compromise on what it considers key national interests. For example, Xi set a strong tone on the Taiwan issue, stating that the CCP has "the resolve, the confidence, and the ability to defeat separatist attempts for 'Taiwan independence' in any form." This part of the speech attracted much applause from the Congress delegates. Indeed, as many China watchers have pointed out, a considerable amount of people in China believe that the Communist Party will lose its legitimacy to rule China if it loses Taiwan.
The message that Xi sent through his speech indicates that the Chinese leadership is ready to look beyond the regions and issues that are immediately related to their country, to move their country "closer to the center stage" of the world, and to lead their country to "make greater contributions to mankind." By stating that "no country can alone address the many challenges facing mankind and no country can afford to retreat into self-isolation," Xi also sets a clear, albeit inexplicit, contrast to Donald Trump's isolationism, portraying China as a responsible power that committed itself to major global affairs including peace, development and climate change.
If the blueprints outlined by Xi in the last few days are to be faithfully implemented, the world will be expected to see a fundamental switch in China's diplomacy and foreign policies in the next few years. Under the leadership of the new Central Committee of the CCP, with Xi at the top, China is likely to transfer itself from a quiet achiever into an outward-looking, proactive, and probably rather assertive player that is not shy about telling the world what it sees as more appropriate and justifiable international order.
China adopted such a strategy once before, under Mao Zedong's leadership between the 1950s and 1970s, intending to make itself the leader of the "third world" outside United States, the Soviet Union, and their allies. At that time, China offered enormous international aid to its followers and launched extensive propaganda wars, but the world was predominately shaped by the bilateral relations between the two superpowers. However, the game in the global arena has changed fundamentally between then and now. As China already emerged as the world's Number Two in many aspects, the shift in its style, attitude, and behavior in global affairs is likely to have a profound impact on the international order in the years to come.
Yu Tao is a lecturer in Chinese Studies in the University of Western Australia (UWA), where he teaches contemporary Chinese society and language, and coordinates the Chinese Studies major.