In Call With Trump, Xi Restates Korean Denuclearization China's 'Unswerving Goal'
The presidents of China and US had a phone call about North Korea's latest missile launch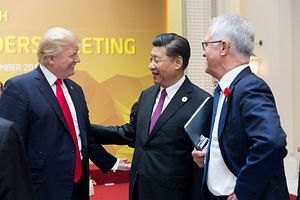 After 74 days without a missile launch, North Korea launched a Hwasong-15 intercontinental ballistic missile at 2:28 am local time on November 29, shocking the international community again.
Shortly after, Chinese President Xi Jinping and his U.S. counterpart Donald Trump had a telephone conversation about the missile launch. During the phone call, Xi restated that China's "unswerving goals" are "denuclearizing the Korean Peninsula, maintaining international nuclear-nonproliferation regime, and preserving peace and stability in Northeast Asia."
According to China's state news agency Xinhua, Xi told Trump that China would "keep up communications with the United States and all other related parties, and jointly push the nuclear issue towards the direction of peaceful settlement via dialogues and negotiations."
In contrast, after the call Trump said on Twitter "Just spoke to President XI JINPING of China concerning the provocative actions of North Korea. Additional major sanctions will be imposed on North Korea today. This situation will be handled!
There was no mention of "additional major sanctions" in Xinhua's report.
According to the Chinese side, Trump said during the call that "Washington highly values China's important role in solving the nuclear issue, and is willing to enhance communications and coordination with China in search for solutions to the issue."
At the regular press briefing on November 29, Chinese foreign ministry spokesperson Geng Shuang expressed China's "grave concern and opposition" to North Korea's latest missile launch and "strongly" urged the North Korea to abide by relevant Security Council resolutions.
Based on the Chinese foreign ministry's various remarks on North Korea's multiple launches, this specific rhetoric — "grave concern and opposition" — has shown China's highest degree of discontent towards North Korea.
However, when pressed on the question whether China will increase sanctions on North Korea, Geng didn't give a direct reply, but said instead that "China always fully, accurately, earnestly and faithfully implements" Security Council's resolutions.
"We will continue to handle the relevant issues in a way that helps to realize denuclearization of the Korean Peninsula," he added.
Despite the Chinese foreign ministry's ambiguous remarks, China seems to have already applied more pressure on North Korea.
As The Diplomat noted earlier, China tends to prefer "silently punishing" North Korea to announcing public condemnation, since both Chinese and Korean cultures, influenced by Confucian philosophy, believe that "losing face" in public is worse than being punished secretly and "public humiliation" will only lead to further provocation
China's special envoy Song Tao was sent to North Korea on November 17, but he apparently failed to meet with North Korean supreme leader Kim Jong-un during his trip. Many observers posited that Song didn't fulfill the mission of bringing North Korea back to the negotiating table.
As The Diplomat reported, after Song's visit Air China Ltd. indefinitely suspended flights between Beijing and Pyongyang, claiming that it was because of a lack of passenger demand.
Meanwhile, the China-DPRK friendship bridge — the bridge that connects the cities of Dandong, China and Sinuiju, North Korea across the Yalu River —  has been closed.
Geng Shuang explained that the bridge is temporarily closed "for repair work on the bridge floor" by the North Korean side.