Japan to Delay Development of New Stealth Fighter
Japan is likely to postpone the development of the indigenously designed and developed F-3 stealth fighter jet.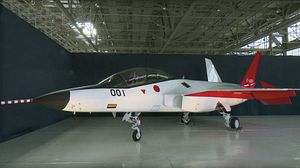 Japan is slated to postpone a decision to develop a new fifth-generation fighter jet, according to media reports.
Japan started its own stealth fighter crash development program in the 2000s after the United States refused to sell Japan the Lockheed-Martin F-22 Raptor stealth air superiority fighter. In April 2016, the Mitsubishi Heavy Industries' experimental fifth-generation fighter technology demonstrator X-2 "Shinshin" (formerly the ATD-X) took to the skies for the first time.
The X-2 prototype serves as the basis for the development of Japan's first indigenously designed stealth fighter, designated the F-3. The aircraft prototype conducted dozens of test flights in 2016 and 2017. It was originally slated for completion by 2018, with the first F-3 to take to the air in 2027.
However, "the direction is for the F-3 decision to be put back," one source familiar with the program told Reuters.
By starting the F-3 program Japan first and foremost intended to test the capacity of its aircraft industry to domestically develop a stealth fighter including a next-generation jet engine. Japanese officials already indicated in 2016 that a final decision about the future of the F-3 program will likely not be made until sometime in 2018. "Regarding the F-3 decision, including whether we will delay a choice, we have haven't come to any conclusion," a spokeswoman for the Ministry of Defense Acquisition Technology & Logistics Agency (ATLA) told Reuters this week.
The Japanese government sees a domestic stealth fighter program as one option of many, I explained previously:
Japan is slated to procure up to 100 new fifth-generation air superiority fighters by the 2030s. An estimated $20 billion contract is expected to be awarded in the summer of 2018 (See: "Japan's Air Force to Receive 100 New Stealth Fighter Jets").

As I explained in July 2016, Japan has three options for procuring for the new aircraft: "First, develop an indigenous air superiority fighter. Second, partner with a foreign defense contractor and license-produce a new aircraft. Third, import or upgrade an existing platform." The U.K.-Japan joint study falls into the second option of partnering with a foreign aircraft maker.

However, U.S. aircraft makers will remain Japan's top choice for any future fighter jet co-development projects. 
A decision over the future of the F-3 program will have to be made in the first six months of 2018. Otherwise, it will be too late to include the program in the defense ministry's new five-year defense equipment plan, which will be revealed by the end of next year. Meanwhile, the Japan Air Self-Defense Force (JASDF) will induct a total of 42 F-35As into its ranks in the years ahead.