Journalists in Balochistan: Caught Between the Devil and Deep Blue Sea
Insurgents and security forces alike are targeting Balochistan's reporters.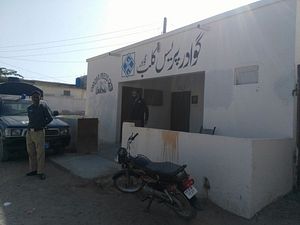 Pakistan is the most dangerous country for journalists in South Asia. Ranked the fifth deadliest country by the Committee to Protect Journalists, at least 89 journalists have been killed in Pakistan. Of those, 60 were confirmed to have been killed because of their work.
Within Pakistan, the backward and insurgency-driven province, Balochistan, is the most hazardous province for journalists. According to Khalil Ahmed, president of the Balochistan Union of Journalists, 43 journalists have been killed in Balochistan, including by bomb blasts and targeted killings. Twenty-five journalists have lost their lives in targeted killings while reporting in the conflict zones in Balochistan, Ahmed said.
In 2003-2004, the fifth phase of Baloch insurgency began in the rugged mountains of Balochistan but permeated across the province with the passage of time. As violence spread, journalists have become sandwiched between the establishment and non-state actors in the fragile province.
Ahmed told The Diplomat that according to the latest reports, 23 press clubs have been shut down in the province for more than two weeks because of threats and warnings from the insurgents. He added that there is no distribution of newspapers in the central and western part of the province, where most of the press clubs are closed. At the start of October, the Baloch insurgents issued a deadline of October 24 to the journalist, newspaper, and media networks working in Balochistan to give coverage to their claims and ongoing military operations in Balochistan; otherwise, the insurgents warned, there would be dire consequences.
The day after the ultimatum expired, the insurgents attacked Pak News Agency with a hand grenade in Turbat, the second most populated city of Balochistan. Seven people were injured in the incident. Another attack was reported on the press club in Hub Chowki, the industrial city of Balochistan, although no casualties was recorded in the attack.
Facing attacks from both insurgents and the government, some journalists even have taken refuge in the West, in countries like the United States.
The founder of the first online news agency in Balochistan, Baloch Hal, Malik Siraj Akbar is now living in exile in Washington, D.C. He wrote about his experiences with the military and local government in a piece titled "Why I Fled Pakistan," for the Committee to Protect Journalists:
In the summer of 2007, military intelligence personnel took me from the Quetta Press Club against my will to its office in Quetta's restricted military cantonment. I met with a major and a colonel, whose table was covered with fresh copies of the anti-government Daily Tawar and Daily Asaap newspapers. Most of the papers' stories were marked with a green highlighter. The two men said they wanted to give me 'friendly advice.' In what was to last for several hours, the meeting began with bizarre questions such as on the sources of funding of different Baloch newspaper editors but ended with threats of death if I did not stop reporting on enforced disappearances.

The next week I met again at the same white-painted, old compound, with the same officers. This time the atmosphere was more hostile. Worried by the continued threats and offers of 'friendly advice,' I asked for an interview with the governor of Baluchistan, Awais Ahmed Ghani. I wanted to tell him about my situation and the growing threat I felt.

When we met, the governor encouraged me to do 'positive journalism.' I had never heard the term before and asked if he could explain it to me. It took him less than fifteen seconds to make clear that positive journalism was journalism that supported government policies.
Such experiences are sadly widespread. Hamid Mir, a famous anchor in Pakistan, shared his ordeals during a reporting trip to Khuzdar in Balochistan back in March 2013 with The Diplomat. "After the assassination of general secretary of Khuzdar's Press Club, Abdul Haq Baloch, I decided to visit the club, which had reopened," he explained. "[…]This risky trip taught me how journalists are helpless in Balochistan. This one day and one night was the scariest day of my life."
In Mir's words, the "deputy inspector general of police rushed to me and asked me in a worrying tone why I put my life in danger by visiting Khuzdar. He asked me to be seated in his double-cabin Vigo, [and] as soon as I followed his orders, a group of armed men surrounded the vehicle."
Mir went on: "I was shocked to see that a high ranking official of the police was so confused and helpless. He could do nothing except request the militia not to harm me. The militia, commonly known as the 'death squad' in Balochistan, sponsored by the establishment to counter the Baloch insurgents, told me to give coverage to a few females, whom they mentioned were widows of soldiers. I recorded what they said, then they allowed us to go… this entire episode happened close to a security check post."
Not only have groups sponsored by the establishment killed journalists, but the insurgent groups also target journalists. Abdul Qadir Haji Zai of Vsh News, a local news channel, was killed by the Baloch Liberation Front in Washok district on May 28, 2012.
Fateh Jan, who now lives in a refugee camp in Germany and previously worked in the print and electronic media in Balochistan, told The Diplomat, "I have witnessed my colleagues being killed by the religious extremist group and a banned terrorist organization Baloch Musalla Difa Tanzeem (BMDT).They have killed Munir Shakir, Javed Naseer, and Khan Mohammed. They all worked with me."
In a worried tone, Jan added, "I had a good career back in Pakistan with a promising bright future. But no career is worth dying for, so, I left Pakistan to have a safe and sound life. Though I am living in a refugee camp in Germany, I am safe here."
The threats from the state and insurgents are related, as both sides are trying to shape media narratives to their own benefit.
Requesting anonymity, a senior journalist told The Diplomat, "The media has become a propaganda tool of the state. Specifically, in Balochistan, it is controlled by the establishment. Journalists based in Balochistan have lost credibility and they don't do impartial reporting, which is the need of hour… there is no objective and investigating reporting in Balochistan or in Pakistan as a whole."
He added that "the insurgents raised this notion that they neither get sufficient space in newspapers in particular, nor in electronic media… state narratives only [are] showed to people. Due to these biases of media, the journalists are being targeted by the insurgents."
According to this journalist, the security situation makes true investigative reporting extremely difficult.  "As it is widely known, Balochistan is a conflict zone and the journalists of this particular land are targeted very frequently… due to the label of a conflict zone, all the media networks of Balochistan have their offices based in Karachi or Islamabad. Even Vsh News Channel, that is said to be the first Balochi news channel, has its head office in Karachi. And they like other news channels and newspapers don't pay [attention] to their staffers, who are working in the far-flung areas of Balochistan."
The government of Balochistan is being blamed for failing to provide security to the journalists. According to Anwar Ul Haq Kakar, spokesperson for the Balochistan government, "The government has made a security plan for the journalists, media networks, and newspaper agencies in the province. We will give protection to the news agencies who are involved in the distribution of newspapers. The government will help them in every possible way, i.e, giving them security through Frontier Corps and Police."
However, relying on the government for security has its own drawbacks, as the senior journalist pointed out. "Instead of coming up with the idea of training for journalists and allowing them to do impartial reporting, the government showed a willingness to provide security to journalists, but this is not the solution to this dilemma. The job of journalists cannot be done in such a way."
Most of the killers of journalists in Balochistan have yet to be arrested. Asked about this, Kakar said that the government has arrested the killers of Irshad Mastoi. Masoi was bureau chief of an online news agency and general secretary of the Balochistan Union of Journalists. He was killed along with a reporter, Abdul Rasool, and accountant, Mohammad Younis, on August 28, 2014, in their office. Kakar criticized the media for not publicizing the result of that investigation, saying, "But this is unfortunate that media does not give enough coverage to us when we brought killers to justice."
As for alleged attempts by the government to control media coverage, Kakar stated that "the government will not allow journalists and media persons to glorify terrorists."
"We do allow them to publish the insurgents' claims and share the insurgents' point of views," he added. "[…]We give them complete freedom for publishing the claims of insurgents." Kakar noted, "There is a difference between freedom of speech and glorification of violence."
The senior journalist who requested anonymity shared a series of questions he'd gleaned from conversations with some in the international community:
How can Balochistan hope to survive intact in an environment which muzzles journalists to keep them from reporting objectively? And now insurgents are demanding that their positions be reported or journalists themselves will be killed? How does this make Pakistan look when disagreements are "handled" with threats and killing? When instead of facing head on the cries of inequity and attempting to provide a more balanced distribution of resources, the establishment decides that it is better to just silence the protests and those writing about them? Journalists now face threats from both sides.

Questions that indeed deserve to be addressed, before another journalist's life is lost.
Shah Meer Baloch is a former Visiting Fellow at the Institute for Peace Research and Security Policy at the University of Hamburg, a fellow of the Swedish Institute and the Institute for Foreign and Cultural Relations (Institut für Auslandsbeziehungen/IFA), and a freelance writer. He graduated from the National University of Modern Languages (NUML), Islamabad (Pakistan) in International Relations. His research focus is on Asia-Pacific politics, Balochistan issues, extremism and human rights. He is from Pasni, District Gwadar.