Malaysia Navy Commander Makes India Voyage
The commander of the Malaysian navy's eastern fleet paid a visit to India's southern naval command.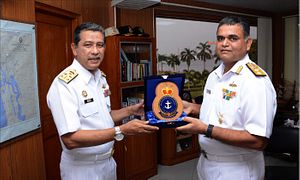 Last week, the commander of the Malaysian navy's eastern fleet made a visit to India, which included a trip to the Southern Naval Command in Kochi. The visit shed light on the ongoing developments in both naval cooperation between the two countries as well as the broader defense relationship.
Malaysia and India already share a defense relationship with a firm foundation. Key elements of cooperation in this area, including training, exercises, exchanges, and visits, were institutionalized through the memorandum of understanding (MOU) on defense cooperation back in 1993 and the subsequent setting up of a Malaysia-India Defense Cooperation Committee (MIDCOM) and then further developed over time.
Defense cooperation has continued to be advanced, including in priority areas like counterterrorism and cybersecurity. This year is a notable one for bilateral ties, with Malaysia and India commemorating the 60th anniversary of the establishment of their bilateral relationship and India and ASEAN celebrating the 25th anniversary of the establishment of the ASEAN-India Dialogue relationship as New Delhi looks to build out the "Act East" policy being developed by Prime Minister Narendra Modi, which prioritizes deeper ties with Southeast Asian states.
During Malaysian Prime Minister Najib Razak's visit to India in April, both sides agreed to pursue several avenues to strengthen defense cooperation including setting up an aircraft safety and maintenance forum; increasing the scope and level of their current exercises; increasing information sharing on humanitarian assistance and disaster relief (HADR) and white shipping; and concluding agreements on merchant shipping, combating terrorism and transnational crimes, and prisoner transfers.
From November 3 to November 5, Vice Admiral Dato' Syed Zahiruddin Putra Bin Syed Osman paid an official visit to India's Southern Naval Command (SNC) in Kochi before moving on to Colombo in Sri Lanka. His visit came after he had attended the Goa Maritime Conclave, which was held November 1-2.
During the visit, he met with Rear Admiral RJ Nadkarni, the chief of staff at SNC. According to a press release by the Indian Navy, both sides discussed various elements of naval cooperation but in particular touched on training cooperation. Training has been an important element of defense ties for decades, particularly in terms of Indian training of Malaysian air force pilots, and it remains a potential area for further strengthening ties.
The vice admiral was also shown around the facilities of SNC, including the Watermanship Survival Training Facility and the gunnery school INS Dronacharya, where he had himself undergone specialization training back in 1983. He also met four Malaysian naval officers currently undergoing specialization courses with Indian Navy at Kochi, a concrete manifestation of the bilateral defense relationship.