Russia's Pacific Fleet to Receive 10 New Warships in 2018
The Pacific Fleet is slated to receive its first Project 636.3 diesel-electric attack submarine next year.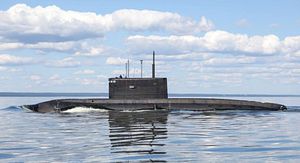 The Russian Navy's second biggest fleet, the Pacific Fleet, is slated to receive ten new warships including new submarines in 2018, according to a Navy spokesperson.
"In 2018, the Pacific Fleet plans to receive about 10 advanced warships and support vessels… It is planned that after the Sovershenny corvette that arrived in Vladivostok this year, the Gromky and Gremyashchy advanced corvettes – which already have crews – will become part of the fleet's surface force. One of these ships is being built in Komsomolsk-on-Amur, and the other, at St. Petersburg's Northern Shipyards," Pacific Fleet Spokesman Nikolay Voskresensky told TASS news agency on November 28.
The Sovershenny, Gromky and Gremyashchy are Project 20380 Steregushchy-class corvettes, the Russian Navy's newest class of corvettes. Given their size (2,200 tons), NATO has classified the Steregushchy-class as frigates. The ships can be armed with 3M-54 Kalibr supersonic cruise missiles available in land-attack, anti-ship, and anti-submarine variants and specifically designed to evade active air defenses and electronic countermeasures.
The missile can also be carried by Project 636.3 Kilo-class (aka Vashavyanka-class) diesel-electric attack submarines, one of which is also expected to join the Pacific Fleet next year, according to the Navy. (However, some reports indicate that the likely induction date of the first Project 636.3 Kilo-class sub will be 2019). Overall, the fleet is expected to receive six 636.3 Kilo-class subs by 2021.
"The Project 636.3 Kilo-class is an improved variant of the original Project 877 Kilo-class design. The updated version is slightly longer in length — the sub's submerged displacement is around 4,000 tons — and feature improved engines, an improved combat system, as well as new noise reduction technology," I reported last year. "The submarine has a crew of around 50 and can conduct patrols for up to 45 days."
The fleet will not receive additional Project 955A Borei –class ("North Wind") or Dolgorukiy-class nuclear-powered ballistic missile submarines (SSBN) in 2018. "Three Borei-class SSBNs have been commissioned to date with one submarine, the Yuri Dolgoruky, serving with the Northern Fleet and the remaining two – Alexander Nevsky and Vladimir Monomakh — deployed with Russia's increasingly more active Pacific Fleet," I explained in June.
The Pacific Fleet is also planning to upgrade four Project 949A Oscar II-class nuclear-powered guided missile submarines (SSGN) with 3M-54 Kalibr cruise missiles. The Navy's newest surface warships, the Admiral Gorshkov-class (Project 22350) and Admiral Grigorovich-class (Project 11356)  guided missile frigates are not expected to join the Pacific Fleet in the foreseeable future. The fleet's modernization plans will continue to emphasize submarines over surface combatants.
The Pacific Fleet currently consists of one heavy-nuclear-powered guided missile destroyer, one guided missile cruiser, four large anti-submarine warfare ships, three guided missile destroyers, eight small antisubmarine warfare ships, four guided missile corvettes, 11 guided missile boats, nine minesweepers, four large landing ships, five landing crafts and around 23 submarines. However, only around six larger surface warships and nine to ten subs of all types appear to be operational.