Singapore, Brunei Conclude Military Exercise
The two sides held this year's iteration of Maju Bersama amid a series of other defense interactions this month.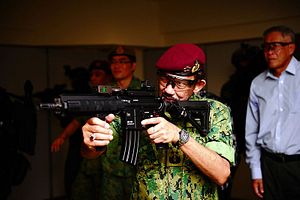 This month, Singapore and Brunei carried out another iteration of one of their annual military exercises. The drills, which came amid a series of other interactions as well, highlighted the ongoing defense ties between the two fellow Southeast Asian states.
As I have noted before, Singapore and Brunei have a close defense relationship as part of their broader bilateral ties (See: "What Did the Brunei Sultan's Singapore Visit Accomplish?"). This is reflected not just in traditional aspects like exchanges, visits, and exercises, but also the fact that the Singapore Armed Forces (SAF) holds training in Brunei, as it does with several other countries, including Australia and the United States.
The defense relationship has seen some recent gains and has been in the spotlight of late more so than usual, particularly last year with the commemoration of the 40th anniversary of ties. As part of that, the two countries inked a new memorandum of understanding on defense technology cooperation.
One of the exercises that the Singapore Armed Forces (SAF) and the Royal Brunei Land Forces (RBLF) have held on a regular basis is Maju Bersama, a battalion maneuver exercise which began in 1992. Last year, the exercise, which occurred in Singapore as both sides commemorated their 40th anniversary of ties, involved about 350 personnel from the two countries and was visited by Brunei's deputy defense minister.
From November 18 to November 27, Singapore and Brunei carried out the 22nd iteration of Exercise Maju Bersama. The exercise came amid a series of other interactions in the defense relationship this month, such as Singapore's Second Minister for Defense Ong Ye Kung's introductory visit to the sultanate, meetings with several defense officials as part of the annual Young Leaders Program (YLP) both sides host, and holding the flagship bilateral naval exercise Exercise Pelican (See: "Where are Singapore-Brunei Defense Ties?").
The exercise, held in Brunei, consisted of a mix of professional exchanges, combined field exercises, and a combined battalion live-firing exercise. According to Singapore's defense ministry (MINDEF), this edition of the exercise involved about 320 soldiers from the 3rd Battalion of Singapore's Infantry Regiment (3 SIR) and the 3rd Battalion of the Royal Brunei Land Forces (RBLF).
The closing ceremony was co-officiated by leaders on both sides in Peta Tutong, Brunei. In a further testament to the importance of the exercise to the overall defense relationship, the RBLF commander said that Maju Bersama was a cornerstone of the army-to-army ties between the two countries.