What Did the Brunei Sultan's Singapore Visit Accomplish?
Both sides underscored the significance of their relations as they commemorated the anniversary of a unique agreement.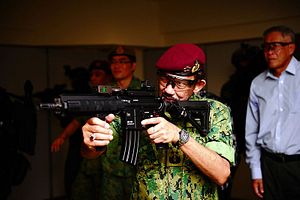 Last week, Brunei's Sultan Hassanal Bolkiah paid a two-day state visit to Singapore. Though the highlight of the visit was the commemoration of the 50th anniversary of their unique currency agreement, it also demonstrated the broader significance of the relationship for both sides.
Brunei and Singapore, the two smallest members of the Association of Southeast Asian Nations (ASEAN), have long had close ties amid similar challenges and a shared history, even though the official establishment of diplomatic relations between the two countries only occurred following Brunei's independence from Britain in 1984. Today, both countries continue to cooperate in areas ranging from defense to investment to education.
From July 5 to 6, Sultan Hassanal Bolkiah paid a state visit to Singapore, his fourth and the latest since April 2014. During his visit, Bolkiah met with several top Singapore officials, including Prime Minister Lee Hsien Loong, President Tony Tan Keng Yam, and Deputy Prime Minister and Coordinating Minister for National Security Teo Chee Hean.
The headline item was the commemoration of the 50th anniversary of the Currency Interchangeability Agreement struck by both sides in 1967, with Lee and Bolkiah launching commemorative S$50 and B$50 notes. Under the unique arrangement, following Brunei's issuing of its own currency starting in 1967, both Singapore and Brunei agreed to accept from banks the notes and coins issued by the other at par and without charge. The agreement, and the effective pegging of the Brunei dollar to the Singapore dollar, has since been viewed as a symbolic marker of the bilateral relationship.
Lee and Bolkiah also jointly opened a co-curated exhibition titled "Abode of Peace & the Lion City: A Brunei-Singapore Exhibition" at the Singapore Philatelic Museum. The exhibition will run in Singapore until the end of February 2018, and a similar one is expected to be held in Brunei later this year.
Defense ties were also in the spotlight. This realm of the relationship had already seen advances last year as both sides commemorated the 40th anniversary of their relationship, with, among other things, the inking of a memorandum of understanding on defense technology cooperation  (DT MOU) (See: "Singapore, Brunei Ink New Defense Pact").
This time around, during his trip, Bolkiah visited the Singapore Armed Forces' (SAF's) facilities at Pasir Ris Camp, where he observed several demonstrations of activities – including counterterrorism forces storming a building and firing on simulated terrorist targets – as well as key facilities at the Airbone-Trooper Training facility. Brunei is one of the countries where the SAF is allowed to train, offering the city-state the space that it lacks for this purpose.
"His Majesty's State Visit has reaffirmed the close, substantive, and enduring ties between Singapore and Brunei," Singapore's foreign affairs ministry said in a statement released July 6.
"The bilateral relationship is built on the firm foundations of friendship and trust between Singaporean and Bruneian leaders over the years, and will continue to flourish as both sides work together to strengthen existing and new pillars of cooperation."