The Men Who Will Lead China Into Its 'New Era'
How China's new top personnel will impact policymaking in the next five years.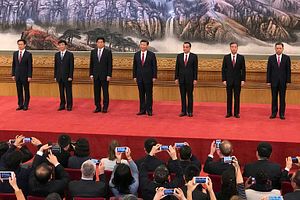 At the 19th Party Congress of the Chinese Communist Party (CCP) in October 2017, CCP General Secretary Xi Jinping announced that China has entered a "new era" in establishing socialism with Chinese characteristics. The words "new" and "innovation" featured quite prominently in the text of his speech. Yet, in respect to the choice of personnel, we see quite the opposite. Cadre in their late 40s are no longer represented in the Politburo; the youngest member of its standing committee turned 60 this year. Against this background, how many new and innovative policies can we expect from the innermost circle of power in China's political system?
Except for Xi Jinping and Prime Minister Li Keqiang, all other members in the Politburo Standing Committee (PBSC) are new to this exclusive club of seven, although all have extensive experience in policymaking. Who are these new players and what does their elevation mean in terms of policymaking for the next five years?
The members of the PBSC not only make decisions that impact how the party of 89 million members is governed, but also have the final word on the macro strategies for the country of 1.3 billion people. Different from Western political systems, in which the inner cabinet of the executive branch is the platform for strategic decision-making and compromise, the PBSC is a more exclusive club which brings together the people with those portfolios that are considered the most vital to keep the country on an even keel. The 25-person strong Politburo comprises the key personnel in party and state organs, as well as the military.
In the seven-member Standing Committee we find the following positions represented: Xi Jinping, the general secretary of the Party, the formal No.1 in the CCP hierarchy, is at the same time the president of the PRC and commander-in-chief of the People's Liberation Army. The State Council, China's executive, is represented by Li Keqiang, the prime minister, and it is most likely that the No. 7 on the new PBSC – Han Zheng – will serve as executive vice premier from March 2018 onwards. For the formal appointments of Li Zhanshu – who ranks third on the PBSC – as head of the national legislature, and the party's No. 4, Wang Yang, as chair of the consultative conference, we also have to wait until these two bodies convene their annual plenary sessions next spring. Already confirmed are that Wang Huning – the No. 5 – attained the position of the executive secretary of the CCP secretariat, and that Zhao Leji – the No. 6 – succeeds Wang Qishan as head of the Central Commission for Discipline Inspection (CCDI).