The Resurgence of Central Asian Connectivity
Can the world's most dis-integrated region rebuild connectivity from within?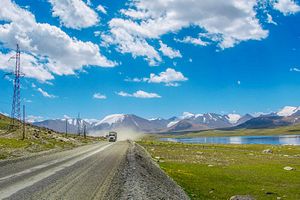 It is early September 2017 at the Dostyk border post, where southern Kyrgyzstan meets Uzbekistan's Andijan region. Located only a few kilometers outside of Osh, Dostyk became instrumental in separating communities that were once united: until the summer, people could only cross it by producing a so-called telegramma – an official proof of invitation received from across the border. A lively ceremony is held to mark the reopening of Dostyk or, more precisely, the termination of this strict invitation-only policy. Local leaders from either side of the border and Kyrgyzstan's deputy prime minister noted the progress made by bilateral relations in the preceding year, highlighting the benefits that a working border post may bring to the economies of the neighboring regions and, most importantly, the daily lives of local communities.
There is nevertheless more than the leaders' personalities to recent tightening and relaxations in Central Asia's customs policies. Globally, the movement of people and goods across international borders is perceived as a bitterly divisive issue. In Central Asia, the mechanisms determining who and what transits across regional borders have been equally politicized, and remained essentially subjugated to the authoritarian agendas that crystallized regionally since the collapse of the Soviet Union. In the 1990s, the political imperatives of the emerging regimes dominated the strategies through which new international boundaries were demarcated. More recently, the logic of authoritarian control sealed the majority of these borders, which thus became symbols of isolation and instruments of insulation from external actors, influences, and pressures.
Despite the advance of globalization, and notwithstanding China's recent push for regional connectivity, Central Asia retreated into one of the most dis-integrated and disconnected regions in the world: the five regional states showed very little interest in establishing mutually sustainable commercial relations and, perhaps most disconcertingly, failed to engage multilaterally in any meaningful way. The consolidation of authoritarianism prevented the progress of Central Asian integration and set apparently insurmountable obstacles to the dual enhancement of connectivity and integration in the region. Looking at the current border kerfuffle between Kazakhstan and Kyrgyzstan, the process of regional dis-integration appears to be irreversible. Recent improvements in Uzbek-Kyrgyz relations, on the other hand, paint a much rosier picture of the prospects for inter-state cooperation in Central Asia.