What Singapore's Radical Preacher Ban Says About ASEAN's Terror War
The move reveals growing alarm about the Islamic State threat and lingering challenges states face in addressing it.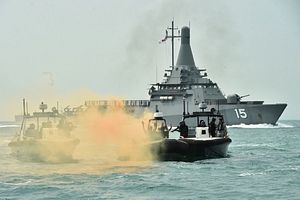 Earlier this week, the Singapore government said that it would not allow two foreign Islamic preachers to enter Singapore as part of a religious-themed cruise set to take place in late November. The move is just the latest in a series of steps that Singapore is taking to crack down on radical ideology, and it also exposes both the city-state's growing alarm at the terrorism threat as well as the lingering challenges states face in addressing it.
As I have noted repeatedly in these pages, Singapore officials have long been warning about the Islamic State threat in Southeast Asia, not just as another security problem but as an existential threat that could tear the country's harmonious, multiracial society apart. In response, the city-state has been taking a series of steps to both contribute to confronting the challenge abroad as well as strengthening its response at home (See: "Singapore Warns of Islamic State Base in Southeast Asia").
Domestically, policymakers have been undertaking a wide range of measures including boosting surveillance, investing more in rehabilitation programs, boosting public awareness, adjusting the way it conducts homeland defense and security operations, and using various means including drills to assess their responses (See: "Singapore Reveals New Military Facility Amid Rising Islamic State Threat"). Singapore's officials have also been keen to emphasize both at home and abroad that the fight against terrorism requires not just a series of kinetic measures in response to the threat, but proactively preventing potential infiltrations and limiting the spread of radical ideology through various means.
This includes not just legal moves like bans on select foreign preachers or reviewing regulations like the Maintenance of Religious Harmony Act to deal with segregationist teachings, but also others such as the building of an Islamic College that can train more religious teachers attuned to the country's context and making it mandatory for existing and aspiring Islamic religious and Islamic education centers and providers to register before they can teach Islam in Singapore.
But the headlines have been largely focused on restrictions on foreign preachers. Singapore Home Affairs Minister and Law Minister K Shanmugam in particular has been suggesting that the city-state needs to tighten the access of select foreign preachers who can threaten the country's religious harmony. Indeed, in early October, Shanmugam showed videos in parliament of two preachers – Mufti Ismail Menk from Zimbabwe, who had been banned from Singapore two years ago, and Zakir Naik based in Mumbai – arguing that such speech should not be allowed in Singapore. Several other preachers, including Christian ones who had made Islamophobic comments, have recently been banned as well.
So it was no surprise when Singapore's Ministry of Home Affairs (MHA) announced that it would not allow two foreign preachers, Menk and Haslin bin Baharim, who often preaches in Malaysia, to enter Singapore for a religious-themed cruise later this month. As MHA noted, both individuals have in fact already had their Miscellaneous Work Pass applications to preach in Singapore rejected, and this move prevents them from circumventing that earlier ban by preaching on cruise ships operating to and from the city-state. Details of the cruise itself remain unclear, and Haslin has refuted the charge against him.
MHA's move speaks to the level of alarm among Singapore's officials about the threat posed by not just terrorist acts, but segregationist and divisive teachings. Shanmugam revealed earlier this month that though the government may not publicize the full extent of the threat, over the past couple of years, the number of Singaporeans detained under the Internal Security Act has increased, dozens of foreign workers and maids have been radicalized, and the government has been thwarting potential copycat attacks. In this context, as the MHA said in its statement, the government's concern is that these divisive views can "breed intolerance and exclusivist practices that will damage social harmony and cause communities to drift apart."
But moves like the preacher ban also reveal the challenges that the terrorism threat poses for regional states, including Singapore. Though banning foreign preachers who spread divisive messages and separating religion from politics may be a prudent move in the interest of national security in a diverse country, it also has been read by some as restricting free speech, especially given the other sorts of measures the Singapore government has instituted on this score.
Shanmugam, for his part, makes no apologies for the tradeoff that the city-state has made and continues to make between security and freedom. In his address to parliament in early October, he noted that Singapore had always believed that it had to adopt what he characterized as an "activist" approach of fostering interreligious and interracial harmony, whether it be in its integration of ethnicities in housing or using English as the medium of instruction in national schools. He referred to the challenges faced by countries such as the United States, United Kingdom, and Germany as reminders that Singapore had to continue to be activist in its approach.
But as Shanmugam has noted before, some of Singapore's neighbors face their own challenges that make it more difficult for them to take as hard a line and makes for a tougher neighborhood for the city-state to operate in when it comes to transnational threats like terrorism. Unlike Singapore, whose population is mostly ethnic Chinese with Malay Muslims being only a minority, Malaysia and Indonesia are Muslim-majority nations, so the way in which they manage religion and politics also tends to be different. In both countries, we have seen cases where parts of the government and the opposition have used religion for political gain, at times at the expense of broader social cohesion and stability (See: "The Trouble with Indonesia's Ahok Test").
Meanwhile, in the Philippines, a democratic, majority-Christian nation with a Muslim minority in the South, even imposing basic law and order has been a far more complex exercise for the government, and Manila has had much less success in integration. As I have pointed out before, though the focus tends to be on the terrorism threat itself, with a Muslim insurgency rooted in decades-old governance issues with deep political and socioeconomic roots, the fact remains that the breeding ground always exists at a certain level for future militancy of some kind (See: "ASEAN's Post-Marawi Islamic State Chalenge").
So even as Singapore itself undertakes tougher measures to counter the terrorism threat like the preacher ban, the city-state not only faces its own challenges domestically in managing the tradeoffs associated with security and freedom, but does no with a realization that its own neighbors face their own problems – some of them far more basic and acute – that makes for a far more dangerous neighborhood than it would like.