ASEAN and India Converge on Connectivity
The ASEAN-India Connectivity Summit is the latest step in furthering physical ties between India and Southeast Asia.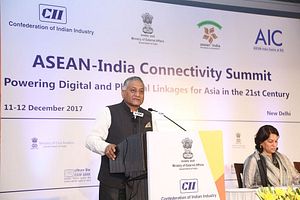 India hosted the ASEAN-India Connectivity Summit (AICS) on December 11-12, with the theme of "Powering Digital and Physical Linkages for Asia in the 21st Century." This summit came month after the 15th ASEAN-India Summit, in which connectivity was one of the major issues for discussion.
Connectivity is a major area of convergence for the Association of Southeast Asian Nations (ASEAN) and India. India is the third country after Japan and China to initiate a dedicated meeting with the ASEAN Connectivity Coordinating Committee (ACCC). The purpose of this consultative mechanism on connectivity between ASEAN and India is to explore possibilities and means to support the Master Plan on ASEAN Connectivity (MPAC), and physically connect it with India.
India currently is working with ASEAN on multiple connectivity projects, through land, water, and air. One of the flagship projects for land connectivity between ASEAN and India is the India-Myanmar-Thailand Trilateral Highway. This initiative, which connects the three countries from Moreh in India to Mae Sot in Thailand to Bagan in Myanmar, was first proposed in 2002. At the Commemorative Summit between ASEAN and India in 2012, it was decided to further extend the Trilateral Highway to Cambodia and Vietnam.  But over the years, this initiative has stalled due to the lack of institutional and financial support from all three countries.
To develop connectivity through water, ASEAN and India are working on the Kaladan Multi-Modal Transit Transport Project (KMMTTP). The project was initiated by the Indian government in 2008 and is entirely funded by India. The purpose is to seek an alternative route through Myanmar for the transportation of goods to the northeast region of India. The KMMTTP connects Kolkata in India to Sittwe and Paletwa in Myanmar by sea and river respectively. A road is also planned to connect Paletwa in Myanmar to Zorinpui on the India-Myanmar border. M. J. Akbar, minister of state for external affairs in India, when asked in parliament for an update on KMMTTP, said that the major part of this initiative has been constructed but currently the road between Paletwa and Zorinpuri in India is "behind schedule."
Alongside this initiative, India has contributed to build a sea link via Sittwe port in Myanmar in order to enable an alternative transit route through Bangladesh. General V. K. Singh, also minister of state for external affairs, while addressing the ASEAN-India Connectivity Summit, stated that ASEAN and India are exploring the signing of an ASEAN-India Maritime Transport Cooperation Agreement. This initiative, according to Singh, will help to enhance cooperation and communication, eliminate barriers hindering maritime transport, and establish a regional maritime transport framework system.
Since ports and waterways are responsible for the flow of the merchandise trade between ASEAN and India, investment in quality infrastructure is essential for better connectivity, trade growth, and maximum utility of resources. According to the "ASEAN-India Maritime Connectivity Report" published by the ASEAN-India Center at Research and Information System for Developing Countries in 2014, in the list of top 25 ports by container volume, ASEAN countries have seven ports while India has only one. This is an area of concern between the two regions. Introduction of the "SagarMala" project by Prime Minister Narendra Modi, whereby India plans to invest in port infrastructure for improved integration and connectivity through the sea, is an encouraging step in this direction.
Other projects, such as a railway link between New Delhi in India to Hanoi in Vietnam; the Mekong-India Economic Corridor (MIEC) connecting South and Southeast Asia; and Stilwell road and Dawei deep-sea port in Myanmar are under consideration.  The MIEC involves the integration of four Mekong countries – Vietnam, Myanmar, Thailand, and Cambodia — along with India, connecting Ho Chi Minh City, Dawei, Bangkok, and Phnom Penh with Chennai. The corridor will provide opportunities for the participant countries to develop infrastructure, enhance their economic base with the region, and especially reduce the transit distance between India and ASEAN countries.
Besides this, the India, Myanmar, and Thailand Motor Vehicles Agreement (IMT MVA) is in the final stage. On realization, this will become the first-ever cross border facilitation agreement between South and Southeast Asia, thus allowing free movement of cargo, passenger, and personal vehicles along the roads linking these three countries.
On the issue of air connectivity, select ASEAN countries have direct flights to first and second tier cities in India, but there is ample scope for improvement. India in the past has announced a Line of Credit of $1 billion to encourage such connectivity projects between India and ASEAN, and a Project Development Fund of 5 billion rupees ($78 million) with an aim to promote manufacturing hubs in the CLMV countries.
After the 1962 war against China, Indian leadership choose not to develop infrastructure in the northeast as a defense against Chinese penetration. However, the lack of infrastructure development has costed India on both the domestic and foreign policy fronts. Domestically, the disconnect of the northeast from the mainland was one of the many reasons for the rise of insurgencies in this region. On the foreign policy front, India missed out on opportunities to diversify its energy needs to Myanmar and enhance its economic relations with Southeast Asia due to modest connectivity infrastructure.
Giving substance to ASEAN-India relations through connectivity will gradually change the geopolitical landscape of this region. Exploring opportunities through connectivity projects will not only curb existing insurgencies, but also help India's northeastern states to develop their economic potential and integrate with mainland India. These projects will also help India to remove physical impediments to trade with ASEAN countries and further integrate the two regions for better economic and security relations. Against this backdrop, the AICS hosted by Delhi was a major step toward establishing better connectivity and catalyzing the already undertaken projects between ASEAN and India.
Suyash Desai is a Ph.D. Scholar in the Center for International Politics, Organization and Disarmament (CIPOD), Jawaharlal Nehru University. His twitter handle is @Suyash_Desai