Chinese Newspaper Publishes Nuclear Attack Survival Guide
The official paper of Jilin, near the North Korean border, publishes a full-page article about precautions to take.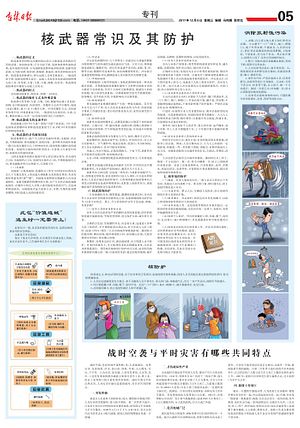 On December 6, Jilin Daily, the official state-run newspaper of China's Jilin province, near the border with North Korea, published a page of articles discussing how to protect against injury in the case of a nuclear attack.
The full-page nuclear attack survival guide — which included information on nuclear weapons, protective measures, and the difference between various disasters — was published one week after North Korea launched a new intercontinental ballistic missile on November 29. The article immediately alarmed the Chinese public as well as foreign media, as the public couldn't help worrying about the subtext behind the newspaper giving the advice at such a sensitive time.
As The Diplomat reported earlier, North Korea's nuclear test in September caused strong tremors — both physically and mentally – in China.The September explosion generated tremors equal to a 6.3 earthquake and was strongly felt in northern China, including Jilin province. Many local Chinese residents shared their experiences on Chinese social media and started to circulate guides on Weibo detailing how to protect oneself in case of a nuclear blast and nuclear radiation.
Later, on December 6, Jilin Daily declared that its full page of information on the same subject was provided by the People's Air Defense Office of Jilin Province and the article was published in an attempt to "strengthen normal national defense education." The People's Air Defense Office of Jilin Province also explained that the content dealing with nuclear arms is only "common sense," and "should not be over-interpreted."
Compared to Japan and other developed countries, China's education on nuclear issues is "far from enough," the Office added.
At the regular press briefing on December 6, Chinese foreign ministry spokesperson Geng Shuang didn't directly answer a question about Jilin Daily's article but instead teased the journalist who asked: "It never occurred to me that you are a reader and follower of Jilin Daily! "
Geng then encouraged the journalist to follow other local media so as to "help flesh out your perception of China."
No matter what the Jilin Daily's intention really was, Chinese state media's recent remarks on North Korea have sent some new disturbing signals to the world.
On November 30, China Daily published an editorial titled "Grave concerns that DPRK crisis is getting out of hand." The editorial threatened the world to be prepared for two choices: "learning to live with the DPRK having nuclear weapons or triggering a tripwire to the worst-case scenario."
On December 6, Global Times, one of the most aggressive state-run newspapers in China, also published an editorial defending Jilin Daily. The editorial argued that the article "doesn't necessarily mean the province faces the risk of nuclear attack." Yet the editorial further claimed:
Even if a war erupts on the peninsula, it is South Korea, Japan, and the U.S. bases in the Asia-Pacific that will likely be priority targets for North Korea. There is a slim chance that the U.S. or North Korea will intentionally launch military attacks at China as they have no grounds. Meanwhile, as a powerful nuclear state, China will resolutely return like for like.

Such rhetoric actually has deepened the Chinese public's anxiety over the North Korean crisis.