Can the Belt and Road Initiative Offer New Hope for China's Rust Belt?
China's northeast has problems that can't be solved simply by building new infrastructure.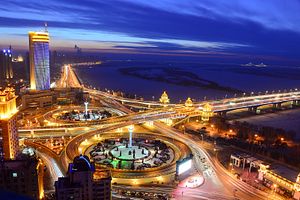 2018 will be a symbolic year for Dongbei, the collective name given to China's struggling Northeastern provinces of Jilin, Liaoning, and Heilongjiang, which are home to over 100 million people. After battling through funding constraints, coordination problems, and temperature of -40 degrees Celsius, workers will finally complete the flagship Amur Bridge project that connects China with Russia. Labelled as part of the Belt and Road Initiative (BRI), the bridge is one of several projects seeking to revitalize Dongbei through improved connectivity and trade with Russia's Far East (RFE) and Northeast Asia more broadly.
Crucial to these connectivity efforts are three major railways centered around the BRI hub of Harbin, the provincial capital of Heilongjiang that's better known for its annual snow and ice festival. The first, which remains under construction, heads north from Harbin to Heihe, before crossing the Amur Bridge and joining the Trans-Siberian railway at Belogorsk. The second heads northwest from Harbin and enters Russia through the border crossing point at Manzhouli/Zabykutsk in Inner Mongolia, then connects with the Trans-Siberian railway in Chita before heading into Europe. In June 2015, the first freight service from Harbin to Hamburg was started along this route. The third route – known as the Primorye-1 Corridor — heads southeast from Harbin to the Russian port of Vladivostok, enabling maritime access to both South Korea and Japan. Should the situation on the Korean Peninsula improve sufficiently, there is talk of another railway that will originate in South Korea before heading up through North Korea and into Dongbei.
While improved connectivity between Dongbei and RFE has been on the cards for years, only in the last five has it started to gain more traction, following the announcement of the BRI and Russia's pivot eastwards following the annexation of Crimea. A $10 billion China-Russia Investment Cooperation Fund has been created to invest in BRI projects; resulting in Chinese investment in Russia increasing by over 70 percent in 2017. Putin has also signaled his intent to promote trade expansion with Dongbei through a 2015 law giving free port status to all key ports in the RFE. Energy projects are already on the rise; China will now source more of its Liquefied Natural Gas demand from Russia through the $27 billion Yamal project in Northwestern Siberia, and a second China-Russia oil pipeline also became operational in January 2018.
For Dongbei, this is welcome news. Increased cooperation with the RFE is reflected by Heilongjiang's trade with Russia increasing by 20 percent in 2017. The Primorye corridors connecting both Jilin and Harbin to Russian ports reduces the journey length by half; previously exports had to be first taken over 600 miles to Tianjin Port before being shipped through Bohai Bay. Combined with better connectivity into Europe, the hope is that Dongbei can find new markets to export its overcapacity. The Amur Bridge alone is expected to facilitate the transport of 3 million metric tons of cargo each year. As a result of improving connectivity, more merchants and investors are beginning to see potential in Dongbei; highlighted by over 13,000 merchants from 74 countries attending the Fourth China-Russia Expo in Harbin in 2017.
However, it would be misleading to view the Belt and Road Initiative (BRI) as a panacea for the region. The initiative is not the first in its attempt to tackle Dongbei's challenges; the Greater Tumen Initiative of the 1990s and Northeast Revitalization Plan of the early 2000s had similar ambitions, but both failed to make meaningful progress. At the core of Dongbei's challenges is that, while it was the richest region in China under Mao, it has struggled to reconceptualize itself following the market reforms initiated by Deng Xiaoping. Its economic output as a percentage of the national total has fallen from 14 percent of GDP in 1978 to less than 7 percent today. At the same time, the region has aged quickly; Liaoning's median age of 39.2 is the highest in the entire country.
Of particular concern is that Dongbei continues to be dominated by inefficient state-owned heavy industry that has been put under increasing scrutiny following recent pollution crackdowns. While the old industries still dominate, the brightest talents will continue to leave.
Asked whether he would consider returning to his home town in Liaoning province following graduation, Ted Chen, a philosophy major at Beijing University, says that "things are looking dim…the industry composition is not aligned with my interests." He stresses caution when evaluating the BRI in Dongbei, noting that "regional news has been reluctant in hailing the initiative as hugely beneficial to its readership."
Chen's concerns are valid. Improved connectivity does not in itself alter Dongbei's industry composition, nor does a faster rail link into Russia make staying in Dongbei a more attractive proposition for young graduates. If BRI infrastructure investments in the region serve mainly to prop up otherwise ailing state-owned enterprises, they may result in burdensome debt obligations that ultimately do more harm than good. As a result, improved infrastructure needs to be seen as part of a wider package that seeks to catalyze the growth of more productive industry in Dongbei. The government is beginning to recognize this, and in 2016 set up a $232 billion fund to make it easier to do business and facilitate the development of the private sector. There have been some early positive signs; for example, the e-commerce giant JD.com announced it would invest $3.2 billion in the region.
Only with the simultaneous reinvention of Dongbei's industry will Belt and Road connectivity projects become worthwhile. The region needs to look beyond heavy industry to propel its growth over the medium term. While the completion of the flagship Amur Bridge later this year will invariably draw media attention and the hailing of a "new start for Dongbei," unless industrial policy can adapt accordingly, the bridge completion risks being nothing more than a symbolic one.
Ravi Prasad is a Yenching Scholar at Peking University and co-founder of www.beltandroad.blog.