Explaining India's UN Vote on Jerusalem
India voted in favor of the UNGA resolution on Jerusalem despite its bonhomie with the U.S. and Israel.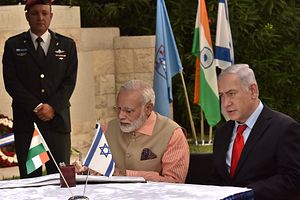 In a major diplomatic setback to the United States and President Donald Trump, 128 countries voted in favor of a UN General Assembly resolution rejecting U.S. recognition of Jerusalem as the capital of Israel. This included India, which voted against the United States and carried forward New Delhi's principled position on the issue – a month before Israeli Prime Minister Benjamin Netanyahu's scheduled visit to India.
India's vote is significant and interesting for a number of reasons.
India, in line with its Nehruvian-era foreign policy principles of Third World Solidarity and non-violence, has historically been an ardent supporter of the Palestinian cause. Despite recognizing the state of Israel in 1950, India only established diplomatic relations with Israel in 1992, notwithstanding Israel's fervent courting of India over the years. However, despite India's reticence in embracing Israel owing to its strong links with Arab states and its large domestic Muslim population, covert cooperation, especially in the realms of security and defense, continued on a large scale.
Given India's emergence on the global stage as a powerful international actor, Indian foreign policy has shifted from normative posturing in favor of pragmatism and self-interest-based action. The changing international landscape following the end of the Cold War, and India's shift from the periphery to the center of the international system, have been instrumental in this. India's careful and delicate balancing act is nowhere more evident than in the theater of the volatile Middle East.
The Middle East is an important region for India's commercial, security, energy, and diplomatic interests. India's 2016-2017 trade with Arab countries, at $121 billion, accounts for 18.25 percent of India's total trade, while its trade with Israel, at $5 billion, accounts for less than 1 percent of total trade. India has robust commercial, security, and defense ties with Israel, while Arab states are important sources of remittances, employment, and energy.
Recent context — including India's bonhomie with Israel, its U.S. pivot, and an NDA government, led by the BJP, that often panders to Hindutva designs — meant that there was a high possibility of India abstaining from the UNGA vote. In fact, while traditionally voting in favor of Palestine at the UN, India had abstained from the UNHRC vote against Israel in 2015, marking the first official signs of a shift in policy. India has also recently attempted to moderate the Non-Aligned Movement's (NAM) anti-Israel resolutions. Moreover, during Palestinian President Mahmoud Abbas' recent visit to India, Indian Prime Minister Narendra Modi reiterated India's support to the Palestinian cause, stating that "there should be a sovereign, independent, united and viable Palestine, co-existing peacefully with Israel" but crucially omitting "with East Jerusalem as its capital" – a phrase that always trailed any Indian statement on the issue in the past. Meanwhile, Modi's vigorous and confident diplomacy saw in July 2017 the first-ever visit by an Indian prime minister to Israel.
However, India has been equally active in ensuring its diplomatic impression in the Arab world. Preceding his Israel visit, Modi pragmatically pursued a thorough engagement with the Arab world by visiting Qatar, the United Arab Emirates, and Saudi Arabia, inviting the Crown Prince of Abu Dhabi as the chief guest for Republic Day celebrations, and warmly receiving Abbas. This laid the groundwork for his Israel visit, while alleviating possible damage and making the visit less controversial both within India and the region.
India's vote in favor of the UNGA resolution espouses that, while it has shed its inhibitions in publicly engaging Israel, it has not abandoned its support for the Palestinian cause and the two-state solution. India's principled and independent position on the Israel-Palestine issue was reiterated by External Affairs Minister Sushma Swaraj in the NAM Ministerial Meeting on Palestine during this year's UNGA session in New York. Preceding the vote, Arab ambassadors in New Delhi met with officials in the Ministry of External Affairs to convince India to vote in their favor, where India again echoed its independent position. Indeed, Modi, by visiting Israel and not Ramallah on his trip, like most world leaders, has de-hyphenated India's relations with Israel and Palestine. Through its actions, India has indicated that it deals with its foreign relations in their own right, without worrying about a third party.
While there are those within the country that are opposed to the way India voted on the grounds that India's pro-Palestinian policy has not garnered a quid pro quo from the Arab world, whereas Israel has often sided with India. Others like Professor P.R. Kumaraswamy believe that India should have "stayed away from the voting to display its opposition to the 'exclusivist' approach adopted by both the Israelis and Palestinians." Either way, considering the broad global consensus surrounding the vote and the "sky is the limit" bonhomie, it is highly unlikely that India's vote will hamper Indo-Israeli relations, which will continue on an upward swing. Political and sectarian issues within the region have even led countries like Jordan and Saudi Arabia to collude with Israel strategically, whilst maintaining their positions on Palestine. Israel's patience in courting India reveals that it recognizes India's calculations, regional compulsions, and domestic scenario.
India's vote also reveals another important message: that an anti-Islamic ideology is not the cornerstone of the India-Israeli bonhomie. Pragmatism, rather than blind Hindutva designs, is guiding the present government in its approach to the region.
Despite its shift from idealism to pragmatism, India's erstwhile tradition of following an autonomous foreign policy free from the interference of external powers continues to underpin present day decision making. Unlike staunch American allies — such as Australia, which depends on the United States for its security, and Canada, which is in the process of re-negotiating the North American Free Trade Agreement (NAFTA) deal with the U.S. – that abstained from the vote, India is on more of an equal footing with Washington and thus less likely to be coerced.
India's principled vote emphasizes its commitment to multilateralism and its consistent opposition to institutionalized discrimination by powers. India has stood its moral ground by not kowtowing to American pressure, thus exhibiting itself as a strong responsible actor within the international system that retains its principled position on international issues. India, with its unique position in terms of its strong ties with Israel, Iran, and Saudi Arabia, can carve out a greater role in overseeing the regional order in West Asia, especially in the context of dwindling American dominance and its efforts to gain its long-coveted permanent seat on the UN Security Council. India must continue to tread this path – expanding its ties with Israel in accordance with its strategic interests, while extending its genuine support for the Palestinian cause – thereby walking a nuanced line on Israel-Palestine and upholding its benign international image.
Shairee Malhotra is Associate Researcher at the European Institute for Asian Studies (EIAS) in Brussels, and holds an MA International Relations from Queen Mary University of London.