Ghani and Mirziyoyev Meet, Renew Afghan-Uzbek Ties
Connectivity was at the heart of Afghan President Ashraf Ghani's visit to Uzbekistan this week.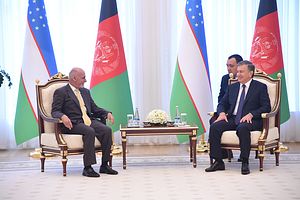 Afghan president Ashraf Ghani made a two-day official visit to neighboring Uzbekistan this week, his first since coming into office in 2014.
After meeting with Uzbek President Shavkat Mirziyoyev, the two presidents issued a joint statement and oversaw the signing of 20 bilateral agreements geared toward strengthening cooperation in various spheres from political to trade, transport and communications to education. In addition, more than 40 export contracts worth $500 million were signed.
The visit fits into Mirziyoyev's overall engagement agenda, targeted most prominently at increased attention to economic and security issues in the context of greater connectivity. Afghanistan, which borders three Central Asian states –Turkmenistan, Uzbekistan, and Tajikistan — has long been discussed in the region in terms of threats and risks.
But while Ghani and Mirziyoyev discussed regional security issues — i.e. terrorism and the war in Afghanistan — the highlights of Ghani's Uzbekistan trip are connectivity projects that, if completed, could see great benefit for both Uzbekistan and Afghanistan.
Uzbekistan already supplies electricity to Afghanistan but one of the agreements signed this week would see the construction of a new powerline from Surkhan, in Uzbekistan's Qashqadaryo Region to Puli Khumri in Baghlan Province.
This, like other projects in Afghanistan, is not without risk. Keep in mind that in January 2016, the Taliban blew up an electricity pylon in Baghlan Province, severing Kabul from the Uzbek electricity that keeps the lights on. Additional power lines provide more targets, perhaps, but also will help alleviate the risk that one blown pylon poses.
In 2008, Uzbekistan and Afghanistan completed a high voltage transmission line that connects the Uzbek power grid to Kabul. The Asian Development Bank provided funding. While we don't have many details about the new power line, it would seem ripe for international financing.
Another project that has drawn attention is the Mazar-i-Sharif-Sheberghan-Maymana-Herat railway. The project would extend a railway completed by the Uzbek state railway company in 2011 between Hairatan, a town on the Uzbek-Afghan border, and Mazar-i-Sharif, onward to Sheberghan, Maymana, and then Herat.
From Herat, double landlocked Uzbekistan is one step closer to the sea — namely the Iranian port of Chabahar — via Afghan-Iranian rail projects. Chabahar, developed with Indian backing, is seen by some strategic thinkers as a direct challenge to China's Belt and Road-linked port development in Gwadar, Pakistan.
As DW noted in an article about the geostrategic positioning of the Iranian port: "Chabahar Port will open markets in Afghanistan and Central Asia to Indian products while bypassing Pakistan."
At the same time, the port and the railways connecting to it could serve to open the world to Central Asian products, bypassing Russia.
In the end, Ghani heads back to Afghanistan with renewed commitments from the country's northern neighbor. Meanwhile, Mirziyoyev's connectivity narrative continues to find receptive audiences in the region and beyond.